My Favourite Barn Wedding Venues in Ontario
Traditionally, wedding ceremonies were held in a church or other place of worship, with a reception dinner in a standard banquet hall. Especially in the past two decades, wedding venues the style of wedding venues has broadened to include thematic locations that tie into the couple's vision for the overall style of the day. Barn venues and other rustic options are among the most popular -- and for many great reasons!
Photographer's Tips for Planning a Barn Wedding:
1. In a perfect world, plan your ceremony to take place in an area of full shade, perhaps under a large tree or beside the barn. This will keep guests cool on a hot summer day, prevent them having to squint, and offer even lighting for your photographs.
2. Consider the flow of the venue -- where will guests enter, where will they go next, and where will they end up for dinner. Barn properties are often quite expansive, with lots of available space to e utilized between the ceremony and reception areas. Consider taking guests on a little journey using a path lined with "stations". At one station thy might sign your guest book...at the next they could pick up the event program...at the next they do a little game, perhaps filling out a card with a "date night" idea for the couple, and then putting it in a fishbowl. These thematic touches will use more of the beautiful property, and give guests something to do if they arrive before it is time to be seated for the ceremony.
3. Use the property as inspiration for your decor to help tie the day together. In the wedding below, the couple has guests throw autumn leaves collected onsite earlier in the day at the conclusion of their ceremony. It was an inexpensive element that engaged guests and tied into the rustic theme.
4. Barn venues offer a casual atmosphere for guests to enjoy their time outside. During cocktail hour, consider offering lawn games that give guests entertainment during your photography session.
5. Finally, barn venues are truly indoor-outdoor spaces. Inquire about having your first dance outside, or lighting sparklers on the lawn when the sun goes down to give guests a good view of the stars as they celebrate with you.


Top Barn Venues in Ontario
---
Valley Croft Event Centre
Valley Croft is a charming family-owned barn built in 1893, and lovingly restored with careful attention to preserve the authenticity. Located in Horseshoe Valley, only 20 minutes from Barrie and about 90 minutes from Toronto, you'll find Valley Croft along a beautiful country road with grand hills overlooking the treetops. The only thing more lovely than the drive is the property itself which features an onsite guests house perfect for your morning preparations, and which you can also rent for the night of your wedding. The barn is situated in front of a forest, and surrounded by lovely bright gardens, either of which can be the backdrop for your ceremony. My favourite feature of the property, however, lies indoors. Valley Croft comes with several glass chandeliers that offer elegance to compliment any decor. The original beams and barn boards bring a piece of history to the beginning of your future, and the focal point in the centre of the room is a decorative ladder that can be wrapped in your wedding florals, or other decorations. Visit Valley Croft online, and arrange a site visit to this dream property!
Belcroft Estate
If you're looking for a space to get married that checks every box, consider Belcroft Estate. Situated on a very quiet historic farm property, but still only minutes from highway 400 (easy access for your guests), this venue has it all. Originally a working cattle ranch, the grounds have since been repurposed to accommodate weddings and events of many sizes. Free and spacious parking steps from the venue entrance, a variety of lovely outdoor ceremony spaces, and two very different areas for your reception. The best part? This property is dog-friendly! Rover is welcome to participate in your wedding ceremony, or the entire day! The first reception area is a rustic barn with beautiful courtyard at the back, overlooking an outdoor dance floor under the stars, and plenty of natural light. The second reception area is a large marquee tent situated behind the barn, out of direct sight-line and with its own driveway area and completely separate patio. View a gallery of images from Belcroft Estate.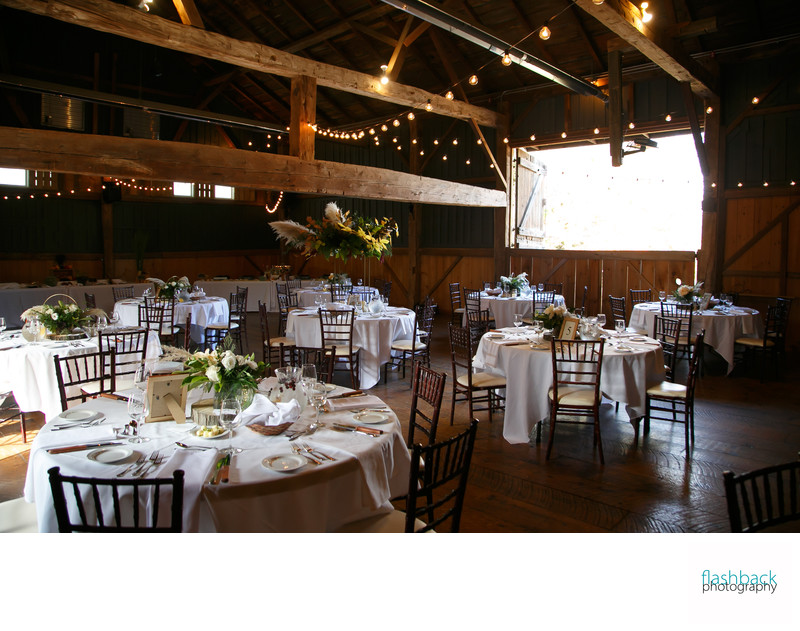 Brooklands Farm
From a small countryside farm to a maple syrup house and, much later, to a garden market filled with pick-your-own raspberries, Brooklands Farm has a history dating back to 1875. Today, the venue hosts weddings in their beautiful barn, and from the moment you drive up the tree-lined driveway you become one with the countryside. The property boasts beautiful views overlooking a meadow, a lovely stroll along the pond to a dock overlooking the still water, and a sun-soaked field of hay that -- depending on your wedding date -- will be blowing in the breeze of in round bales ready for your portraits.