FREQUENT QUESTIONS
A collection of commonly asked questions and answers.
---


Local wedding rates begin $2690+HST. Please contact us for more information; I promise that we will send complete pricing details to your inbox on the very first email.
Do you offer discounts for weekday and winter weddings?
Yes, discounts are offered based on my schedule and availability. Please contact us for more details.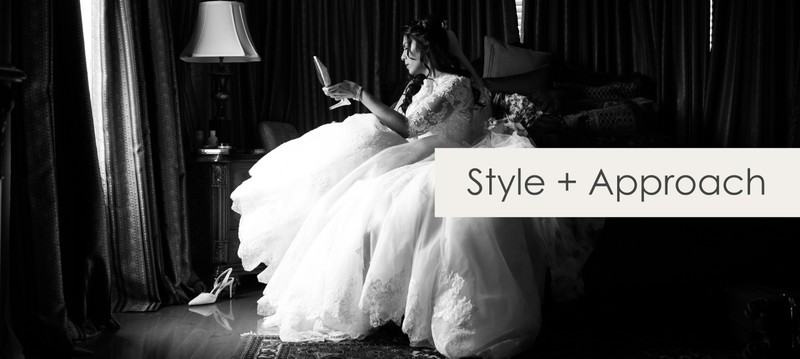 Yes, I do, right here in my home studio with my dog at my feet and a hot cocoa in hand. Every single image is hand-edited, one at a time, with no batch-processing.

If the style you are looking for is a more evenly lit style of photography I may not be the photographer for you. Our images pull from a theatrical inspiration and utilize very carefully placed light to emphasize the most important part of each image. I encourage you to request a gallery from a full wedding day so that you can see what this looks like start-to-finish and ensure my style reflects what you are looking for in your wedding photography.

YES! Absolutely. Any photographer can show a handful of beautiful images from an 8-hour day. I openly encourage you to request at least one full gallery from every wedding photographer you are considering. Get a feel for the full body of images: are they consistent, in terms of style and lighting? Do the people being photographed appear relaxed and comfortable? Does the tone of the images reflect the "feel" of the day? Can you imagine yourself in their shoes? Ask yourself these questions as you browse the full galleries.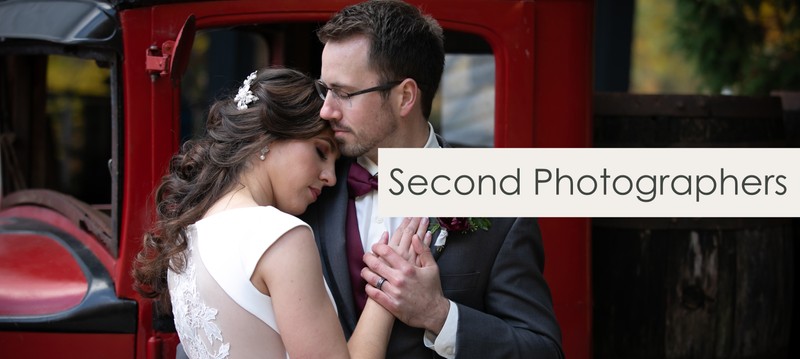 I'm so glad you asked, as there are several! Most importantly, my second photographer is my second set of eyes. While I'm photographing you walk down the aisle, my "second-shooter" will be capturing your fiance's expression as he stands at the altar, and the tear that rolls down your mother's face. As I photograph your family portraits, my second-shooter will document your wedding guests enjoying cocktail hour -- a time in the day you might not have the opportunity to experience in-person.
For weddings that include "getting ready" coverage at two separate locations, my second-shooter can visit one location, while I am at the other. This gives coverage from two perspectives, and allows each of you to see what the other was up to on the morning of your wedding day. In a handcrafted wedding album, we often include a few pages of your "getting ready" scene, followed by a few pages of your fiance's experience, to tell the complete story. For weddings that include a cocktail hour, my second-shooter can document your guests mingling while I capture portraits of your family, or bridal party at the same time.
Finally, my second-shooter sometimes acts as a lighting assistant during your wedding reception. Just as a great chef has a sous-chef, working as a team with my second-shooter allows me to create the artistic lighting that you see in my portfolio.


Our team includes only professional photographers who have been photographing weddings as their primary focus for a minimum of five years. These individuals also run their own photography businesses in addition to working with me, and I encourage this very highly! The more weddings they photograph, the more experience they have working with me. Due to their demanding schedule, they are not available for meetings in advance of your wedding date. That said, do rest assured that just as you and your future spouse can simply look at each other and know what the other person is thinking, my second-shooter and I are in-tune with each other's movements, style and approach. I welcome you to request a full gallery that includes both my work and my second-shooter's work from the same wedding day. To date, no one has been able to correctly identify which images came from which camera.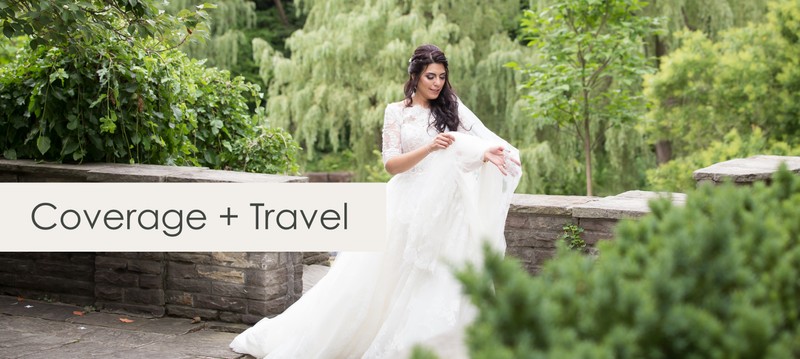 My studio is located in Orillia, Ontario, arguably one of the most beautiful places on Earth (yes, I might be a bit biased!). After nearly 20 years being raised in Peterborough, Ontario, I moved North to attend university over a decade ago. I fell madly in love with the history, culture and the natural environment. My studio is only a few minutes from six local beaches, four provincial parks and the historical downtown.
Many of the weddings I photograph are in Simcoe County and the surrouding areas of Barrie, Wasaga Beach, Midland, Gravenhurst, Huntsville and Innisfil. I also love travelling to my home turf, photographing weddings in Peterborough, Durham and the Kawartha Lakes regions, or venturing down to the city of Toronto. Travel to most major regions of Southern Ontario is included in our wedding collections.


Collectively the photographers of Flashback Photography have captured more than 750 weddings. I, Elaine, have personally been the primary photographer for more than 250 of them across Ontario and beyond. Among many other venues, I have photographed weddings on country farmland, in quaint restaurants, in hotel banquet halls, on golf courses, in churches and even on a car racetrack. I have photographed weddings in the sunshine, in the rain, during a snowstorm and once with the threat of a tornado. I have photographed a wedding on a sailboat and a wedding at a zoo. Rest assured that I am well experienced in my craft and thrive on creating artistic imagery for your special day.


The number of images in the final gallery depends on many factors specific to the wedding -- the number of guests, length of photography coverage, specific events in the timeline, number of locations (keeping in mind that I cannot be documenting and driving between locations at the same time), ect. My average for an 8-hour day, covered by two photographers is 850-1000 images, though, again, this may vary depending on the day itself. I'd love to chat more about your plans!


The honest answer is that without the name of the location I just don't know. If the location you have in mind is on the property at your wedding venue the likelihood of a permit being required is very slim, though we may need to ask permission. If you are leaving your venue and going somewhere else you may need a permit and this is something that can be investigated before the wedding day to avoid any surprises. If we need a permit and we don't have one we may be asked to leave -- I don't want that to happen to us! I will say that locations in Simcoe County, the Kawartha Lakes Region and Muskokas usually do not require a permit, while most locations in and around the GTA will require one. Either-way, let's chat about the spot you have in mind and get a reliable answer ahead of time.


Rehearsal coverage is available if you wish to have it added to your collection, however otherwise I do not typically attend rehearsals. We will absolutely touch-base before the big day to discuss your timeline, and the flow of the event including the ceremony. Rest assured that my not attending the rehearsal will not impact your coverage of the wedding day in any way.




I use professional Canon equipment with extensive back-ups. Currently, my preferred camera body is a Canon 5D mk IV and I have two of them that I use in alternation throughout the day. My assistant usually brings a Canon 5D mk IV and Canon 5D mk III. We both carry a full range of lenses including the 85mm f/1.8, 70-200mm f/2.8 IS, 100mm Macro USM, and 24-105mm f/4 IS. I also bring a set of three Canon speedlites (the EX 600 is my current favourite), a monopod and a variety of light modifiers. If this all sounds like another language to you, that's okay! It is my job to select the perfect equipment to capture each moment. It is your job only to enjoy your day and be truly present with your family and friends. Oh, and if you dig deep enough you may also find some loose change, a pocket-pack of Kleenex, a lens cleaning cloth and a stale granola bar in my bag.


I do not. I choose to specialize in crafting still images as a photographer and give you the very best of this specific art form. I do have partnerships with extraordinary videographers; the way they see moments and light is very complimentary to my own style in photography, making it a cohesive team on the wedding day. If you choose one of them to pair with my services we will both offer a discount on our rates.


Over time, I have met many talented vendors in the local wedding industry. Those who are truly passionate about providing superior customer service and an incredible quality of product are listed on my page of vendor recommendations.

It would be wonderful if you did! Keeping your photography team well fed and hydrated at your wedding will ensure that we continue to be enthusiastic all day, and do not faint from exhaustion while on-the-job. Whenever possible, vegetarian meals are greatly appreciated.


No, they are not. I will provide high-resolution images with a copyright release that allows you to post images on social media, and print your own copies for personal use.

We love albums so much that we have included a FAQ page specifically dedicated to them! Take a peek HERE for more information.


As soon as possible! In fairness to everyone, we do require a signed contract and 30% retainer to reserve your wedding date in our calendar. Until this is received, the date is still available. Once we're booked...we're booked! Most couples book 8-15 months in advance of their wedding date, however some wait until closer to their day, and others reserve us two or even three years in advance. If you are being married on a Saturday in the summer months, your date will likely be more popular than a weekday, or winter wedding.
Being a small family-owned studio we do limit the number of weddings we capture in a year in order to provide our couples one-on-one service and attention. For this reason our calendar may fill up faster than larger studios with lots and lots of photographers working under their roof. The only way to know if your date is available is to reach out; I'd love to chat!


In fairness to all I require a signed contract and deposit payment in order to reserve a date in our calendar. Without these I'm sorry but I am unable to hold a date open or pencil you in.


Yes. The contract is worded in such a way that it is easy to understand and takes very little time to complete, however it is not optional. Any photographer running a professional business should be using a contract of a very similar nature that reflects their business policies and local legislation.


Yes, absolutely.


Absolutely! Let's keep the party going! Overtime coverage is available with your permission and full understanding. Any overtime hours will be billed after your wedding and must be paid in full before your gallery is delivered.


Approximately 30 days before your wedding, I will send a list of the standard family portrait groupings, for your review and completion. This ensures that all family members are captured in an orderly fashion, and none are missed. Other than those family groupings, however, providing me with a "shot list" or Pinterest gallery of images will reduce my ability to capture the naturally occurring moments that make up YOUR day, because I will be too busy recreating images from someone else's wedding on Pinterest. If you love the images you see on my website portfolio I ask that you trust my experience and intuition.


Absolutely! There are several reviews published on this website and our Google Profile. I also encourage you to ask your venue coordinator or other vendors you're working with what their experience with Flashback Photography has been like!


Your deposit payment guarantees I will hold the date of your wedding in my calendar for you exclusively. This means I will turn away all other commissions on that date.
For this reason, deposits are non-refundable.


Deposit fees are still non-refundable. Trust me, my heart aches when I think about what Covid did to our beautiful vibrant industry, our family, our friends and our communities. That said, Covid is not new anymore and current events are being planned with Covid in mind. I will absolutely work with you to reschedule your date if needed but outright cancellation is still an outright cancellation.
If you are concerned about Covid causing stress on your event I highly recommend that you purchase wedding insurance so that you will be protected financially should your event not proceed.
I really appreciate your understanding.


Yes, everyone on the Flashback Photography team has received a minimum of two vaccinations against Covid-19.


Well, that would be rather sad, now wouldn't it? If I die I can guarantee that I will not be at your wedding. The good news is that Flashback Photography is more than just me -- you have a second photographer who will be able to provide will be able to continue in my place, taking over the role of lead photographer, and providing the coverage for your day. He would bring with him an associate of his own, selected from our extensive network of competent professionals, ensuring you still receive the two photographers as planned. After the wedding day my associate would complete the editing of your images and deliver the gallery to you.
If I am super-duper injured or test positive for Covid-19 a similar situation would occur in that my associate photographer would become your lead and would bring a second photographer with him. The only difference is that it would still be me who edits your images and provides your gallery.




Yes!! The engagement session gives the three of us an opportunity to get to know each other before your wedding day. Think of it as a "dress rehearsal" for your wedding day, allowing me to see the two of you interact naturally so that my work is a true reflection of your relationship, and also allowing you to become comfortable being photographed. For more information about the reasons I love engagement sessions, take a peek HERE!

Yes! Please take a look at the links below:
Simcoe County Engagement Locations
Toronto/GTA Engagement Locations


Absolutely!! Typically I'll arrive early to take a peek at the location and find an inconspicuous spot to position myself -- somewhere that allows me to see the action without spoiling the surprise. We'll communicate by text message when I'm in place and you're on your way. As the action unfolds I'll document each moment until you're ready for me to reveal myself. Any remaining time in our session is then available to explore the location capturing both posed and candid portraits of the two of you, similar to an engagement session. I'd love to discuss your proposal plan and the specific details you have in mind.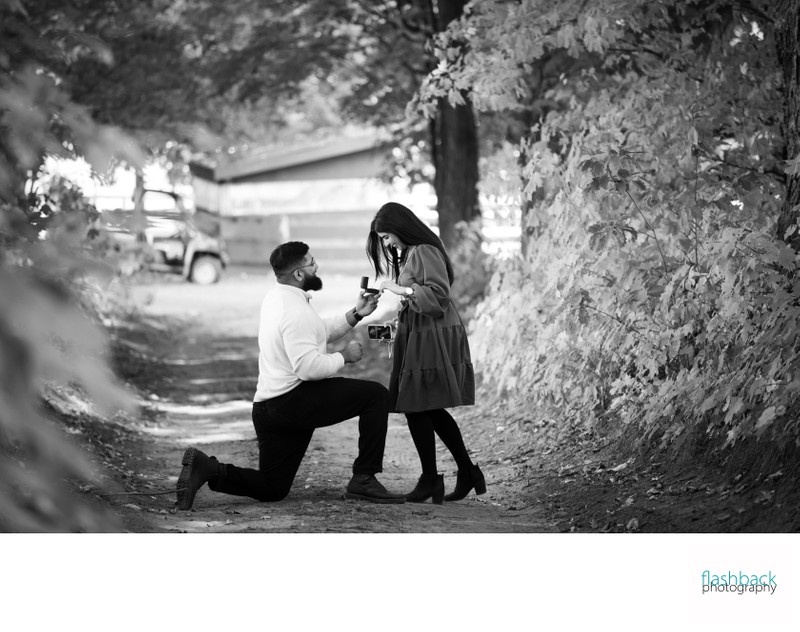 Engagement sessions are 60-75 minutes in duration and typically include only one location. That said, if there are several locations near-and-dear to your heart, or special in the history of your relationship, I would love to showcase all of them. Using multiple locations gives the gallery of images diversity, and makes for a really fun adventure! The fee to extend your engagement session duration is quoted individually based on factors such as the travel distance between locations and the duration required at each location to utilize it thoroughly. Please touch-base with me directly; I would love to hear more about the locations you have in mind.


This is probably one of the most common questions I am asked (and it's an important one!), so I have created a page with specific outfit suggestions and examples.


One of the great joys of living and working in the beautiful province of Ontario is the availability of all four seasons. Because there are pros and cons to each I've written an entire FAQ page dedicated to this very question. Check it out here!
Looking for the "Cole's notes" version? Here are a few tips to keep in mind:
1. If you have your heart set on a specific location, consider whether it will be accessible year-round. Winter driving conditions may make some roads difficult to access, while springtime can be quite muddy on swamp or forest trails, for example.
2. Consider whether you have a specific activity in mind for your engagement session. If you want to go strawberry picking, let's plan on the month of June. Pumpkin picking...best in October. skating on the pond...January or February. Beach play and sandcastle making...August or September.
3. Finally, consider whether you want your engagement images in the same season as your wedding, or in a contrasting season (i.e. winter engagement session and then summer wedding). Many couples choose to include a few engagement photographs at the beginning of their wedding album, to help tell their story (similar to the Preface section of a novel).
Lifestyle Portraiture
What is Lifestyle Portraiture, and how is it different from traditional posed portraits?
Lifestyle portraiture aims to capture authentic moments driven by real interactions. While it is similar to "candid" photography in that it requires very little posing or direction, lifestyle photographers take special consideration of the light direction and intensity, background elements and colour tonality to offer the most artistic version of a real, raw, unstaged moment.
Relationships are the foundation of my art. I strive to create artwork that defines your family who have supported you endlessly, loved you unconditionally and praised your accomplishments every step of the way. It is my hope that the images I create today will outlive me, serving to define families by telling a history unique to them.
Lifestyle photography offers plenty of room for adventure. An overarching theme (i.e. decorating the Christmas tree, baking cookies, flying kites or building a snowman) can encourage plenty of natural expressions that look superb on camera. Let's have some fun, shall we?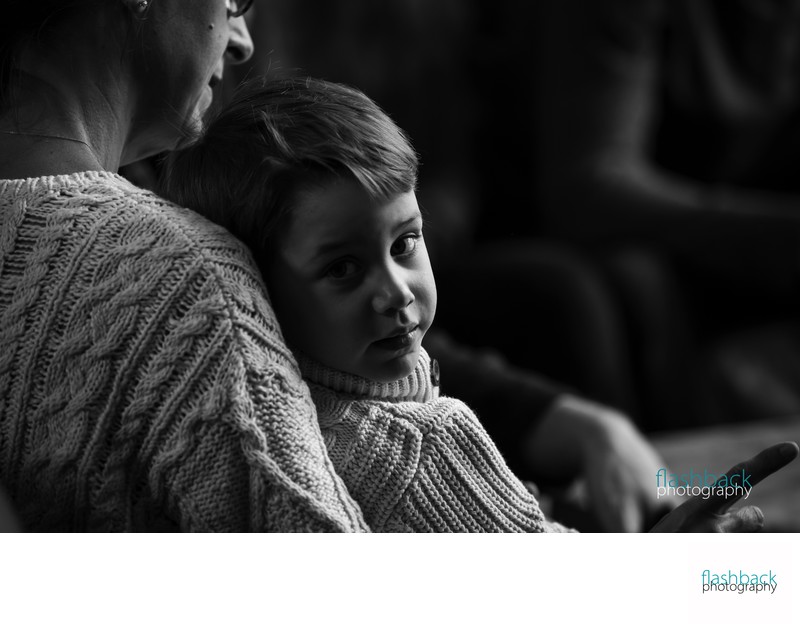 If you are capturing moments as they happen, will we have time for a few posed portraits, also?
Absolutely! While most of my clients are drawn to the "in-between" moments that define lifestyle photography as a genre, I will always find the opportunity for a couple of posed "camera-aware" portraits that will look great on Grandma's fireplace mantle. That said, if you are looking for an entire session dedicated to posed imagery, a more traditional photographer might be the best choice.
Who should I include in my lifestyle portraits?


Anyone whom you consider family is welcome to participate in your lifestyle portrait session. My favourite lifestyle portrait sessions include three generations, as grown children most appreciate images with their parents and grandparents, not just taken by them. Your legacy starts today.
Can I bring my dog/horse/goldfish?


Pets are absolutely encouraged! Please do consider their comfort and the logistics of this process, which are largely dependent upon the location of your portrait session. In your own home, your pets are most comfortable and able to interact with you in a relaxed way that translates well in photography. In an unfamiliar setting however, some pets may be visibly nervous or difficult to manage. You know your own pet best; please consider their comfort first, and do bring them along if you feel it in their best interest!