Getting Ready


Your day begins before you reach the altar. We would love to tell your whole story.
In these moments of anticipation, some of them most treasured emotions of the day lie waiting to surface. While our main focus is to document the story of actions unfolding in front of us, we also take time to capture the details of your day. Your rings. Your dress. Your shoes. The items were chosen carefully, and each has its own backstory. This is their finest day. While you and your bridesmaids are sharing a few laughs, drinks and happy tears, elsewhere your husband-to-be is doing the same. You will never know how he reacted when he opened your gift to him, or the moment his mother saw him dressed up and ready to marry you. Photographs preserve memories, while also revealing them.
How long do you photograph the "getting ready" process?
It is important to consider the extent of coverage you wish to have for the "getting ready" portion of your wedding. I typically recommend each spouse to allocate 90 minutes for this portion of the day. While it may seem like a lot, it is divided among three important elements: firstly we focus on the details of your day, followed by moment-by-moment documentary coverage of the happenings in the room, and finally we aim to capture a portrait of each individual before they walk out the door. Not only are these portraits a lovely keepsake in your gallery, but they also make a fun page in your album when put together!
I don't want to have a "first look", but I would still like to connect with my spouse before the ceremony. Do you have any ideas for us?
Have you considered writing a letter to each other, to be read during the "getting ready" process? How about exchanging a small gift? A quick phone call? Regardless of what you might decide, I would love to hear about it in advance of your wedding so that I may ensure time is allocated for photography coverage of this special moment. Oh, and be prepared with a few tissues in case a tear or two is shed!
I am getting ready in one location, and my partner in a different location. Can you capture both of us?
All full-day wedding photography collections include two photographers, for complete coverage. This allows one of us to work with each of you, simultaneously, and in different locations if necessary. While we are each individuals, we are trained to see moments in the same way, resulting in a very cohesive gallery. Anyone who wasn't present for the "getting ready" portion of your day will be unable to distinguish the work of one photographer from the other.
Who should be with me while I get ready?
Anyone at all! I have photographed weddings during which the bride was surrounded by 10 close friends, her sister, her mother and her aunt...but I have also photographed weddings where she got ready with only her grandmother present, or only her best friend. All are equally wonderful to capture, and have beautiful moments in abundance. Likewise, I have seen grooms get ready with a large group of guys, or just with their parents, or with their own son or daughter. Two brides might get ready together. The same is true of two grooms, or a bride and groom. Anything goes, and all are wonderful.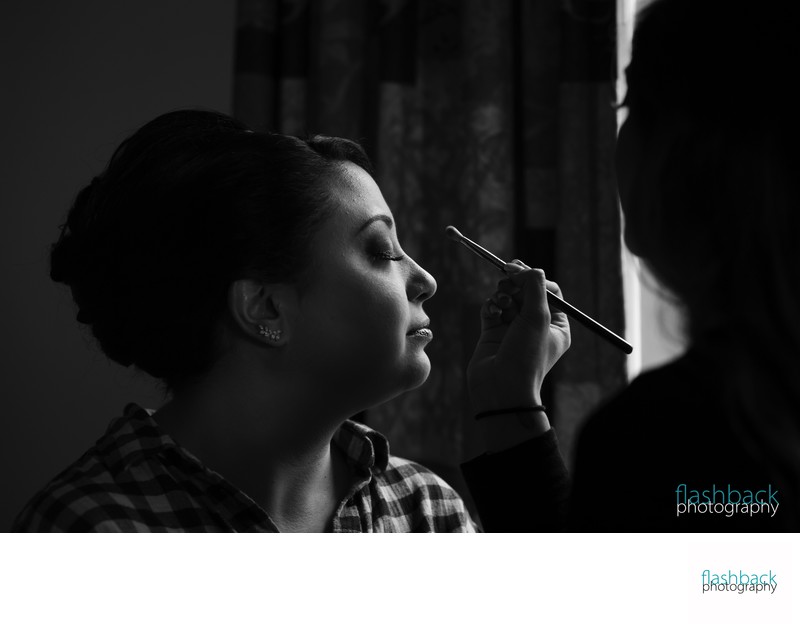 Key Tips To Keep In Mind:
1. It would be super helpful if you consider the room in which your "getting ready" process will take place. In an ideal situation, I would be looking for at least one lovely window with enough space in front of it for you to stand. That said, we can make any scenario work well.
Some tips for specific "getting ready" locations:
Hotel Room: If you are getting ready in a hotel, request a room with lots of windows. Choosing a suite with more than one room is even better, as it allows us to move away from the hair and make-up station to finish getting ready. Or, if you have other guests staying in the same hotel, perhaps we could borrow one of their rooms for half an hour or so during this process?
Personal Home: If you are getting ready in a personal home, I may ask to move a small piece of furniture if I feel it would enhance my access to light.
2. As wedding timelines rarely go exactly the way they are planned, consider allowing an extra 15-45 minutes for hair and make-up, beyond what you think you will need. On that note, while many stylists will suggest the bride be last to have her hair and make-up done, I recommend that there be at least one person scheduled after you. If the timeline is running late, this ensures you are ready to go, since your dressing process will likely take longer than everyone else.
3. If your mother, bridesmaids, aunt, or anyone else will be helping you get into your dress, let's have them dress themselves first. About 15-20 minutes before you are ready, they can take the opportunity to finish their own attire so that they are ready to help you.
4. Try to have all pieces of your outfit arranged in one location. This ensures nothing is missed when we capture those details as a group. If you would like all three of your rings photographed together, it would be helpful if they are with one single person, or in the same area as your other outfit details.
5. Play music, dance, jump on the bed if you'd like! Have fun and celebrate this time of anticipation. I'll be in the background documenting your joy, I promise.