When to Book an Engagement Session
Timeline (Season): What is the best time of year for an engagement session?
Option #1: Summer Engagement Session
The first option is to schedule your engagement session to take place in the summer, creating a harmonious "look" between your engagement and wedding gallery. This is also a popular option, as you can be more flexible with your preferred outfit, and we can visit locations that may not be as easily accessed in the winter. The most ideal months for a summertime engagement session are June-August.
The Pros:
1. While summertime weekends are almost always booked with weddings, longer days mean your engagement session can start after dinner. For anyone with a typical 9-5 work schedule this opens up the opportunity to plan your engagement session on a weekday evening.
2. Summer brings us the warmest golden light just before sunset and the most vibrant colours in the sky.
3. If you love warm temperatures you're all set!
4. Lots of outfit choices!
5. Plan your session around a favourite summertime activity (i.e. paddle in a canoe, build a sandcastle, skip stones on the pond, have a summer bonfire, throw a frisbee -- endless possibilities).
The Cons:
1. Mosquito season runs from May - the end of August, though there are usually some lingering on the shoulders of that range as well. Black flies are heaviest in May, June and July. Wearing bug spray definitely does help, but be prepared for a few bites.
2. It can be super HOT, especially during the months of July and August. If you're really worried about this I'd suggest planning your session at a location on the water; not only will it be cooler there but you can always dip a toe in too!
3. Sunburn! Plan ahead and pack the sunscreen or you may be a bit tender the next day.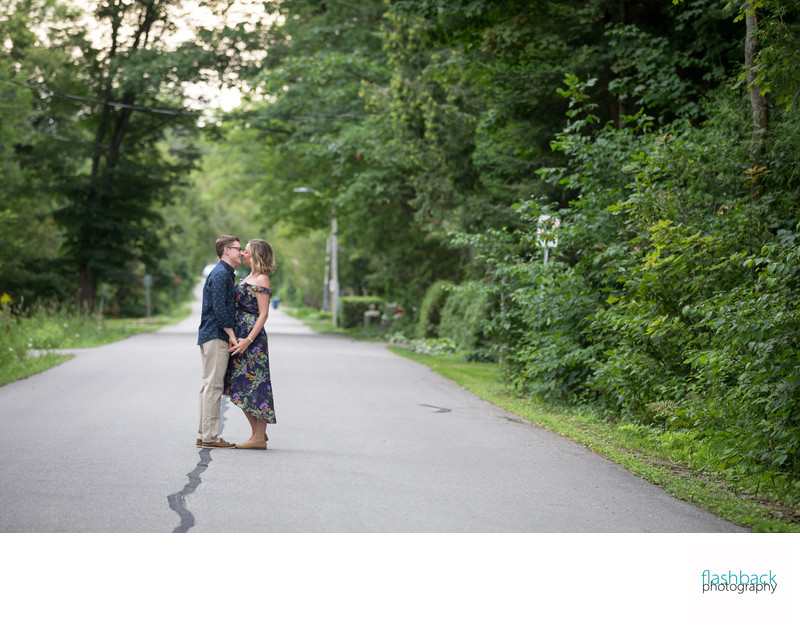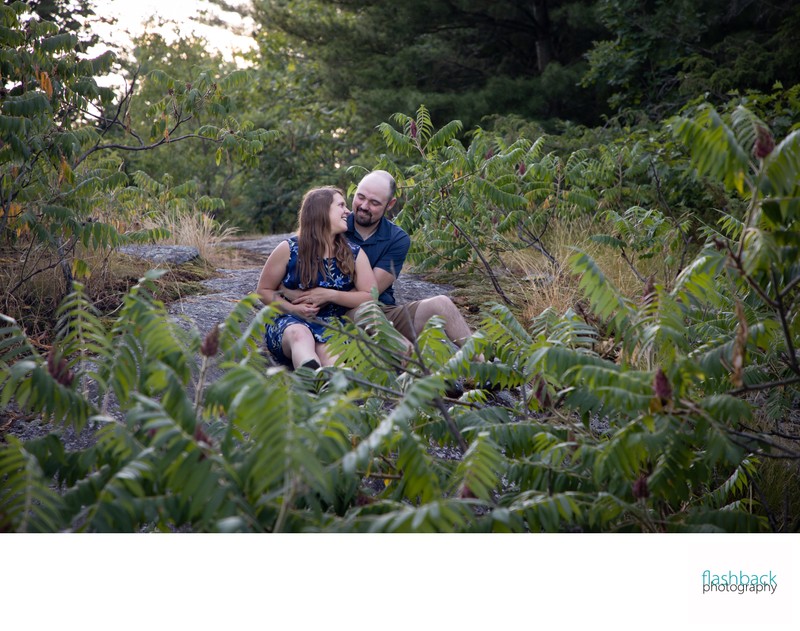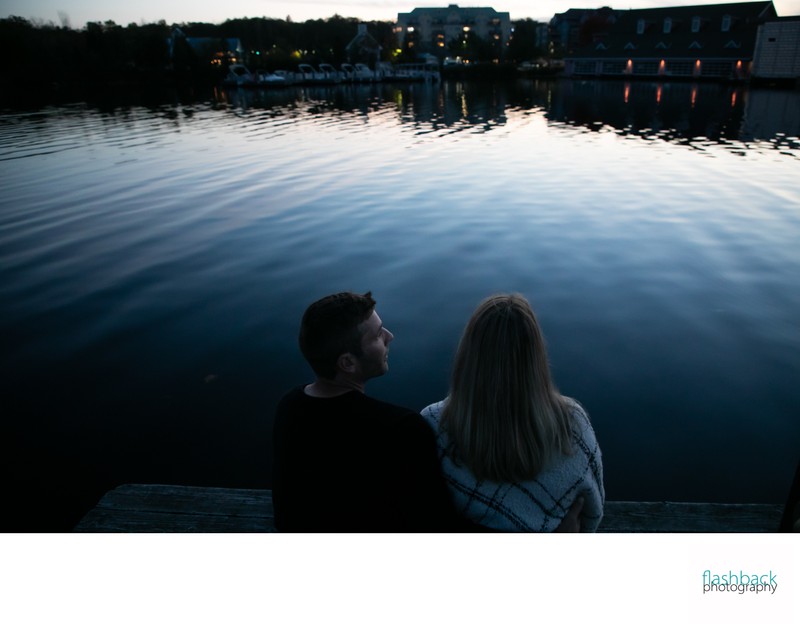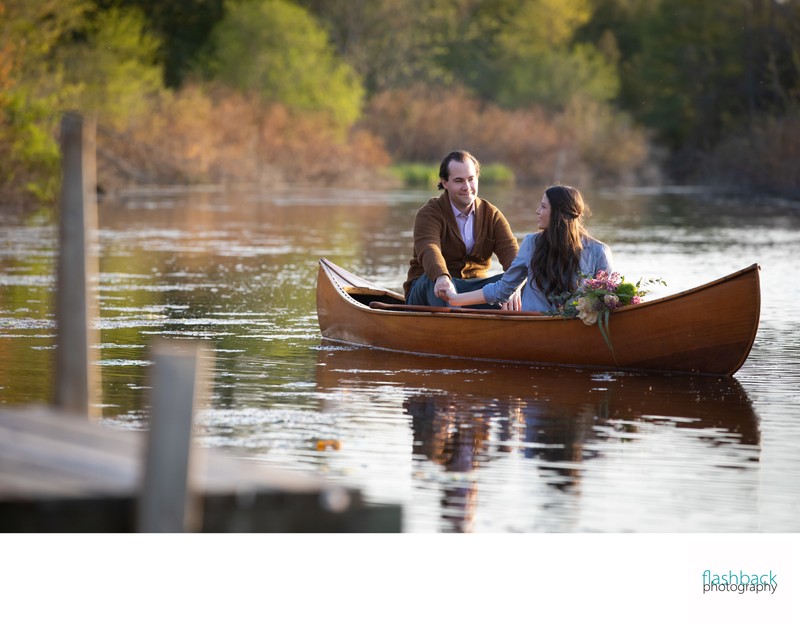 Option #2: Autumn Engagement Session
Autumn months are the most popular for engagements so please consider booking early if you have your heart set on the rich colours this beautiful province offers us. While autumn sessions can take place anytime in the months of September-November, the "prime" weeks are the week before Thanksgiving, the week of Thanksgiving, and the week immediately following Thanksgiving.
The Pros:
1. Vibrant foliage makes for a stunning background.
2. Looking for the perfect temperature? Most autumn days will be exactly what you love!
3. Lots of outfit choices! Easily rock the sun dress for the first half of the session then add a cute jacket or a pair of leggings for a totally different look and still be the perfect temperature -- not too hot or too cold.
The Cons:
1. As the peak of the colours come and leave within a matter of three weeks it can be very competitive to get a date on my calendar; preference always goes to couples who have also booked Flashback Photography for their wedding but it is still wise to inquire early
2. The sun sets earlier meaning photography has to start earlier too -- if you work regular office hours during the week you may need to take a day off to accommodate your session. Weekends in the autumn are almost always booked with weddings so weekdays might be the only choice if you want to fit your portraits in during those fleeting autumn colours.
3. Especially during the last week of October a strong windstorm can take the leaves right off the trees with no notice; sadly there's never a guarantee that this won't happen before your session is booked to take place. I strongly recommend to aim for the first three weeks of October if possible, and week #2 is the best of the best.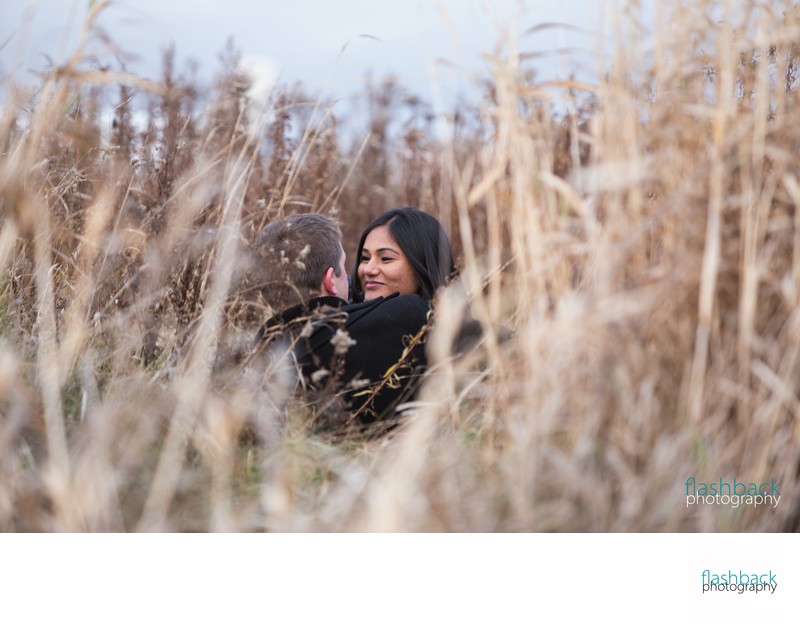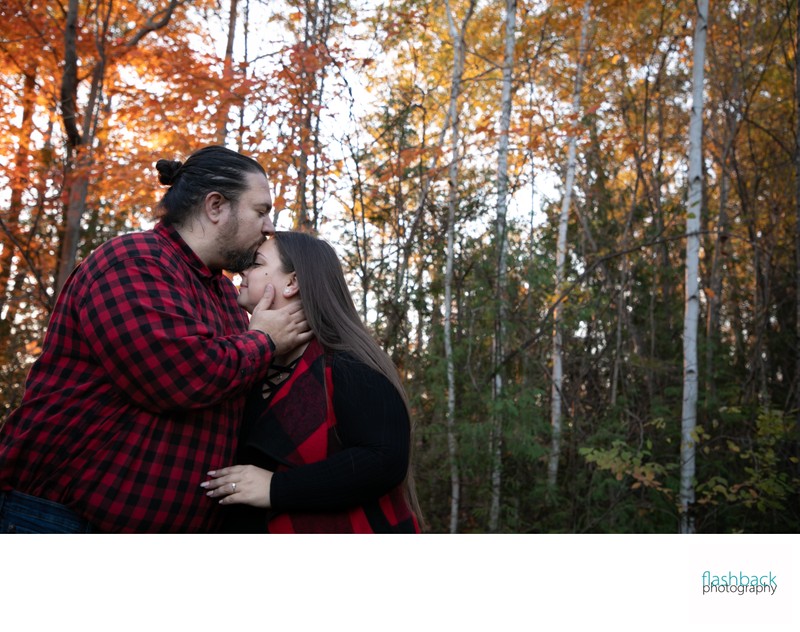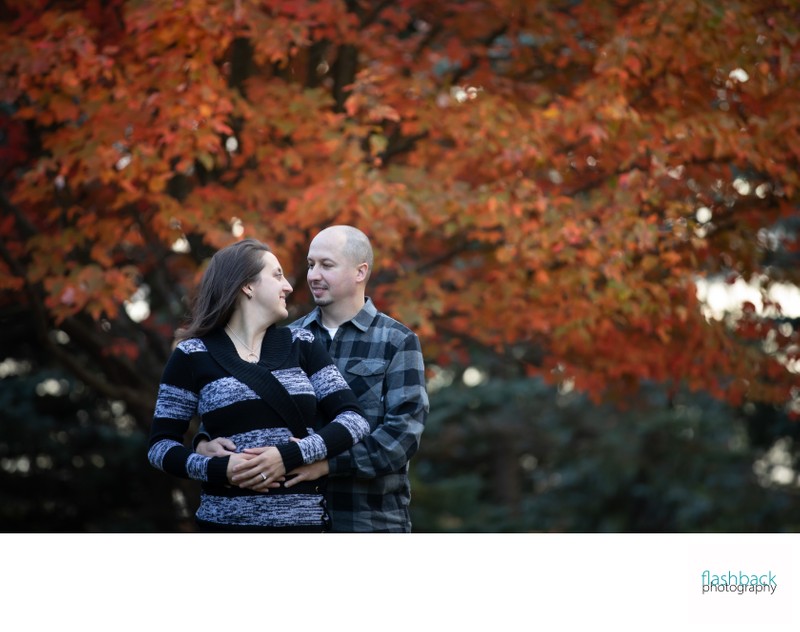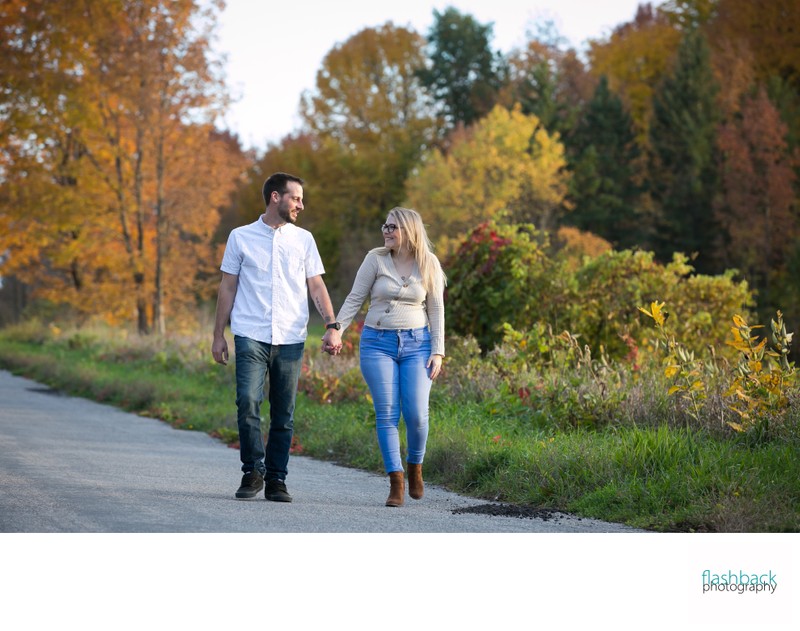 Option #3: Winter Engagement Session:
All of our studio sample albums feature a winter month for their engagement session because their wedding was in the summertime. Their vision was to create a contrasting "look" between their engagement and wedding portraits. In the album especially, this extends the telling of their love story beyond just the wedding day. Although winter engagement sessions can take place anytime from November to March, for the heaviest snowfall, I recommend the months of January and February. The further North you are willing to travel the more snow we tend to encounter and the prettier it may become.
The Pros:
1. The perfect contrasting look from a summertime wedding!
2. So beautiful!! So Canadian!! Enough said :)
3. Have fun by structuring the session around a favourite winter activity (i.e. ice skating, pond hockey, tobogganing or sipping hot cocoa around an outdoor campfire)
The Cons:
1. Some locations may be inaccessible (due to driveways or walking trails not being ploughed, road closures, and seasonal facility closures)
2. Cold temperatures mean that the cute dress you love might not be suitable. Bundle up, and be prepared with extra layers.
3. Driving conditions can change quickly and without notice, especially up in the Muskoka regions. While we will reschedule your engagement session in the event of a major storm on the morning-of, there's nothing I can do if it starts snowing heavily on the way up to our location or during the session and roads are rough going home.
4.The sun sets really early, meaning our session might start around 3:30pm. Depending on your work schedule this may require taking a full day off, or using a weekend.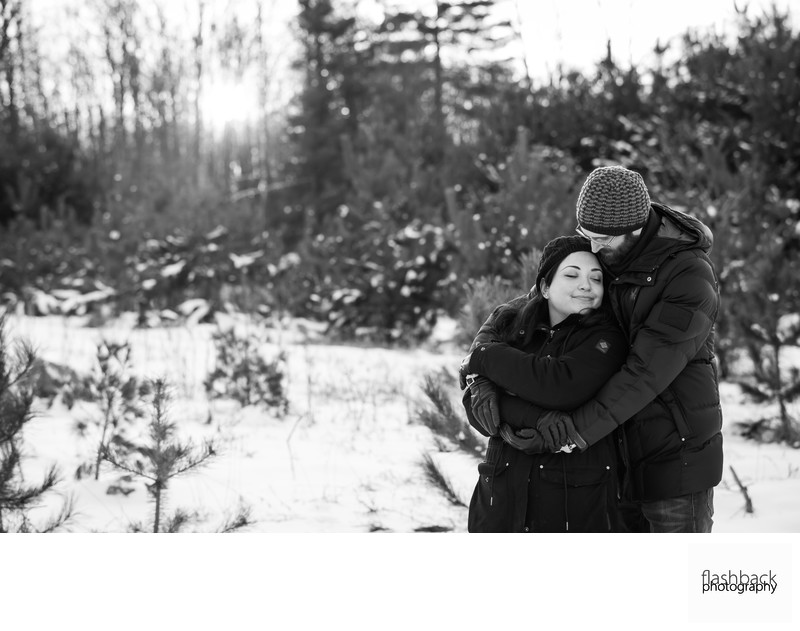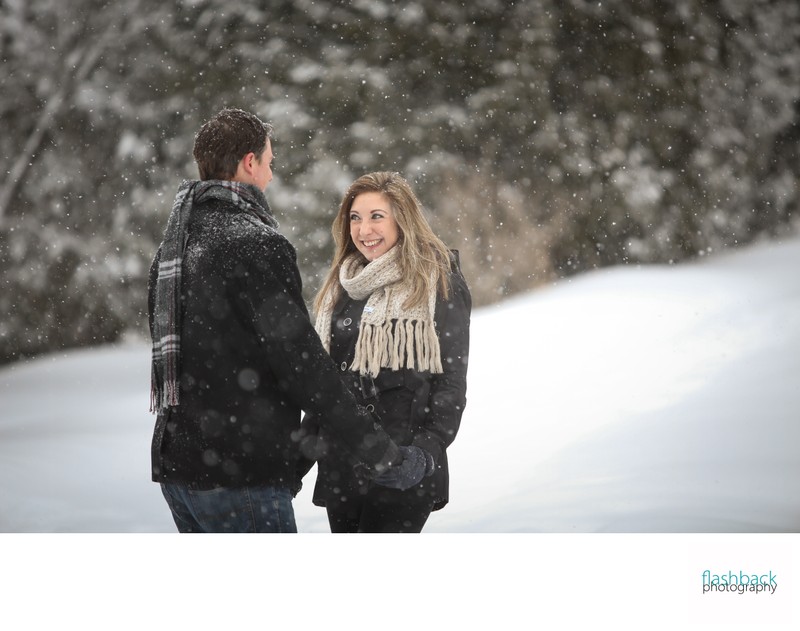 But what abut Spring?
I love the springtime -- filled with hope and promise as new buds emerge and the snow melts away -- but what comes with that is typically heavy rainfall, which leads to mud and slush. Unless you're planning for an indoor session, or a location in the heart of the city streets, I generally recommend avoiding the timeframe between March 1st and April 30th to be on the safe side.
Timeline (Time of Day): What time of day is best for engagement photography?
Regardless of the season, rural engagement sessions begin 90 minutes prior to the sun setting, and urban engagement sessions begin 2.5 hours prior to the sun setting to account for the sun dipping behind tall buildings before it actually has set. If you need to plan around your work schedule, keep this in mind as the sun sets much earlier in the winter than it does in the summer.
When to Book an Engagement Session