First Looks
So, what exactly is a "first look"? A first look is a private moment before the wedding ceremony when the couple see each other for the first time that day, fully dressed in their wedding attire. It is not usually witnessed by friends or family, however it can be if the couple prefers to let a few specific individuals share the special moment. Some couples love this idea, for a variety of excellent reasons. Other couples prefer to see each other down the aisle, also for really important and very valid reasons.
In order to decide if a first look is right for you it is important to weigh the pros and cons of this newer tradition and make sure the approach you choose is right for you. This is a decision you will look back on later in life -- we want to ensure you are absolutely happy with what you chose to do, whether that be a first look, or not. Rest assured that I will enjoy capturing the moments of your wedding day regardless, and that those moments will be beautiful and personal either way.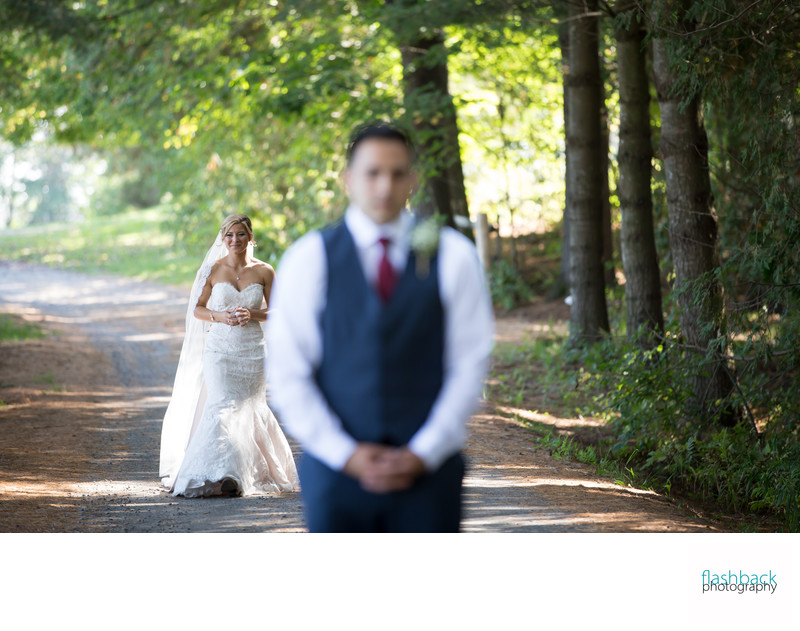 Reasons To Consider Doing A First Look
1. If you prefer to share this intimate moment with each other, or are worried that a few tears may be shed and prefer to have some time to freshen up before your guests arrive, the first look will give you both of these opportunities. Many couples have told me later on that the moment down the aisle was just as powerful as the first look, but without the tears.
2. Doing a first look will likely allow more time for portraits on your wedding day. If we have a first look, it can take place anytime before your ceremony, giving us 20 minutes, or 1 hours, or 2 hours, or more to capture your portraits. We can even invite the immediate family members and bridal party to join the second half of your portrait session, getting their photographs out of the way and therefore allowing them to enjoy your cocktail hour later in the day. If we do not do a first look, the maximum amount of time we will have for portraits is the length of cocktail hour (typically 50 -75 minutes).
3. If we take your portraits before the ceremony you won't miss attending cocktail hour. Go enjoy some of those drinks you're paying for!
4. If you simply enjoy breaking traditions and just want to "do something different" on your wedding day, the first look is a way to shift your timeline from the traditional approach.
5. If you have a special place in mind that will not be accessible during cocktail hour due to the travel time required but would really like some portraits there we can utilize this location for your first look. Perhaps you met at a theatre downtown and want to see each other there for the first time on your wedding day, or perhaps your grandma's farm is up the road and you would like to do the first look there? Simply put, first looks offer flexibility to move freely to locations of your choice.
6. If you are having a winter wedding and want to take your portraits before the sun goes down a first look would allow this. I will note, however, that a first look is not mandatory for a winter wedding, or any wedding. I can easily create or find beautiful light for you even after the sun sets.
⁠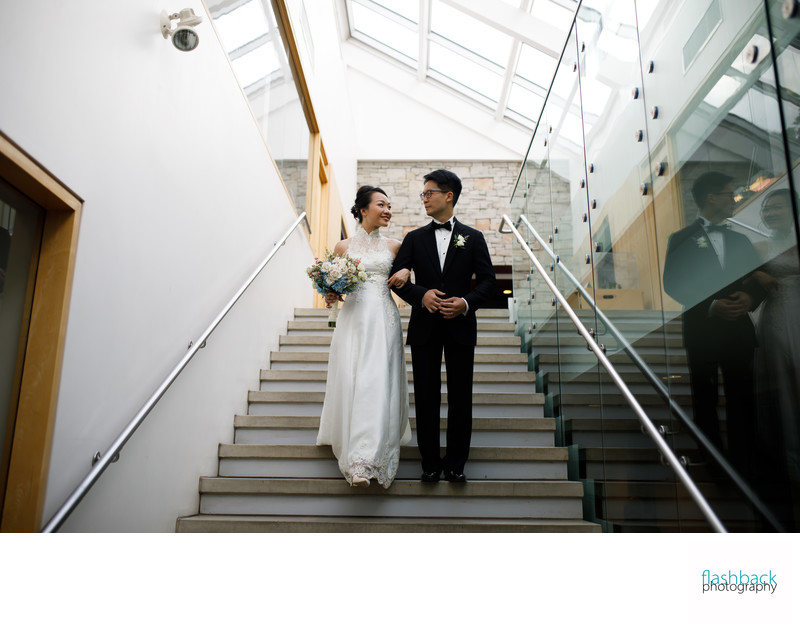 Reasons A First Look Might Not Be For You
1. If anything runs late in the morning, our time for portraits will be reduced. Even if you are a super-punctual person with a good schedule in place, there are a lot of moving parts on a wedding day with hair, make-up, bridal party and deliveries of flowers, cake and more all happening simultaneously, and not all of them end or arrive on time! Because the ceremony start-time cannot be pushed back, our portrait time would be crunched to make up the lost minutes. While a good photographer can accommodate this, creating meaningful portraits in a reduced timeframe, if we have plans to travel to an alternate location for your first look this might have to be changed on the fly.
2. If we do a first look you will have to be awake earlier, getting ready earlier and dressed in your wedding clothes for a longer period of time.
3. Your parents, bridal party and guests will not see your reactions when you lay eyes on each other for the first time. Maybe this is okay, but maybe it would really upset some of the people closest to you who want to share in this moment. Talk to them ahead of time, ask them their feelings and decide whether their opinion influences your decision. Maybe you can compromise and have only your parents watch the first look, or only your bridal party, or maybe a first look isn't for you.
4. Unless hair and make up stay onsite longer, you may need to touch up yourself before the ceremony.
5. If you do your portraits before the ceremony you won't actually be married in those portraits. Maybe this will bother you later on, or maybe it won't. Talk about it and decide what is right for you.
6. If the idea of a first look doesn't feel right to you -- either because you prefer the traditional approach or simply because the idea just seems weird, don't do it. Some couples feel an unrealistic expectation that they are "supposed to" cry during a first look, or have some sort of specific emotional response, and they don't feel they will enjoy the actual moment while trying to accomplish this. Your first look -- or not -- is unique to you. If you think you will feel anything that takes away from the authentic moment and your enjoyment of the experience, don't do a first look.
⁠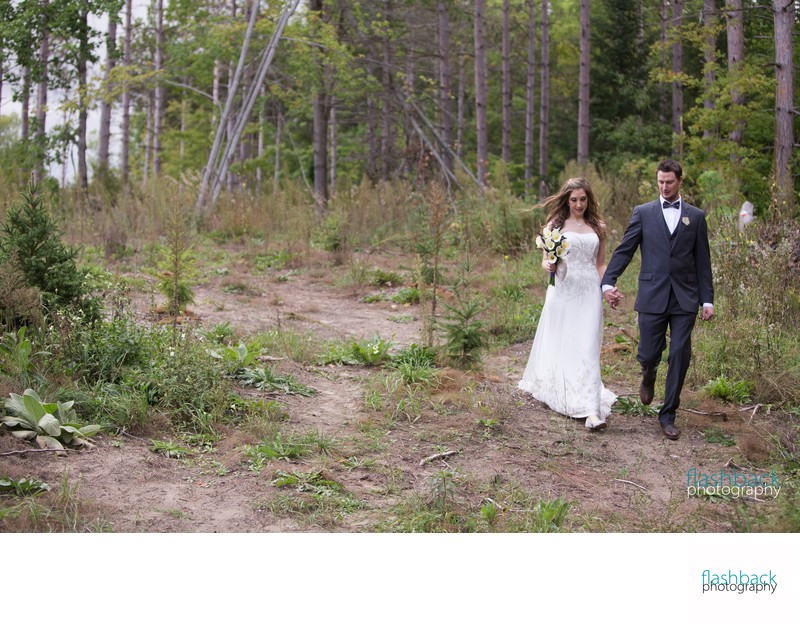 So, Should I Do A First Look?
It really, really does not matter what I think. It is your wedding, it is not a photoshoot, and my role is to document the moments of your day. I love first looks. I also love when couples see each other down the aisle. But, what I love most is when couples do exactly what they want to do on their wedding day.
First Looks With Someone Else!
Some couples who like the idea of a First Look but ultimately prefer seeing each other down the aisle may opt to take the First Look concept and use it with a different special someone! In the image below the bridge and her father did a First Look during which he saw her for the first time prior to the ceremony. I've also seen a First Look with either the bride or groom and both parents, or with grandparents, or with their side of the bridal party.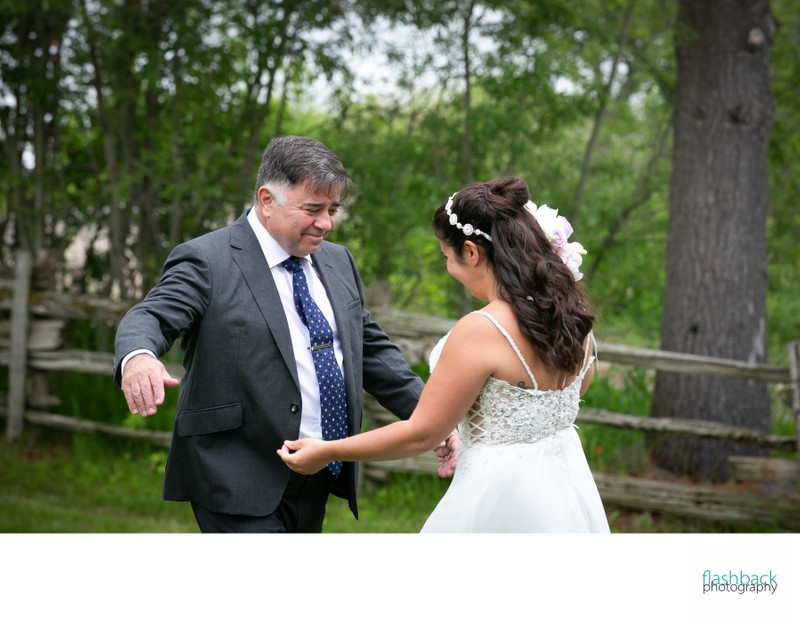 Elaine, Would YOU Do A First Look At YOUR Wedding?
Maybe. At this point I think I would want a first look simply because -- being a photographer -- I would want more time for portraits and the ability for the photographer to completely control the lighting, direction and location. I do, however, like the idea of sharing my first look with my father and my partner's parents. I also like the idea of having my family portraits before the ceremony, but my bridal party portraits during cocktail hour, to break things up. It's just me, and it shouldn't influence you. I am not married yet, however when my day comes I will update this article and let you know what we end up doing.
For research purposes I asked my boyfriend whether he would want to see his bride down the aisle. In a nutshell, he said he would like to have that private moment, but he also would want the "wow" factor of seeing each other down the aisle, and would be afraid to lose that. His vote ultimately would be the tradition of seeing each other down the aisle, although he is open to either approach. Again, his opinion shouldn't influence yours. You do you.