Handcrafted Albums
As a photographer, I capture your wedding day moment-by-moment, with each image telling its own brief story. Together, however, they form a continuous narrative, and become art.

In this technological era, many couples are choosing to opt-out of receiving an album. Most commonly, they have plans to print their own book, and I absolutely understand the reasoning. That said, life is very busy and those well-meaning intentions are often left by the wayside. Years later, the beautiful wedding images we create together remain untouched on a computer hard drive.
In partnership with a dedicated professional design studio and printing lab in Italy, I am so please to offer wedding albums worthy of my incredible clients. These are designed professionally and handcrafted with only the finest materials. Premium-quality archival HD photographic paper is used as an alternative to press-printing. The spines lay completely flat (this avoids images becoming lost in the "gutter" between pages). These albums will stand the test of time.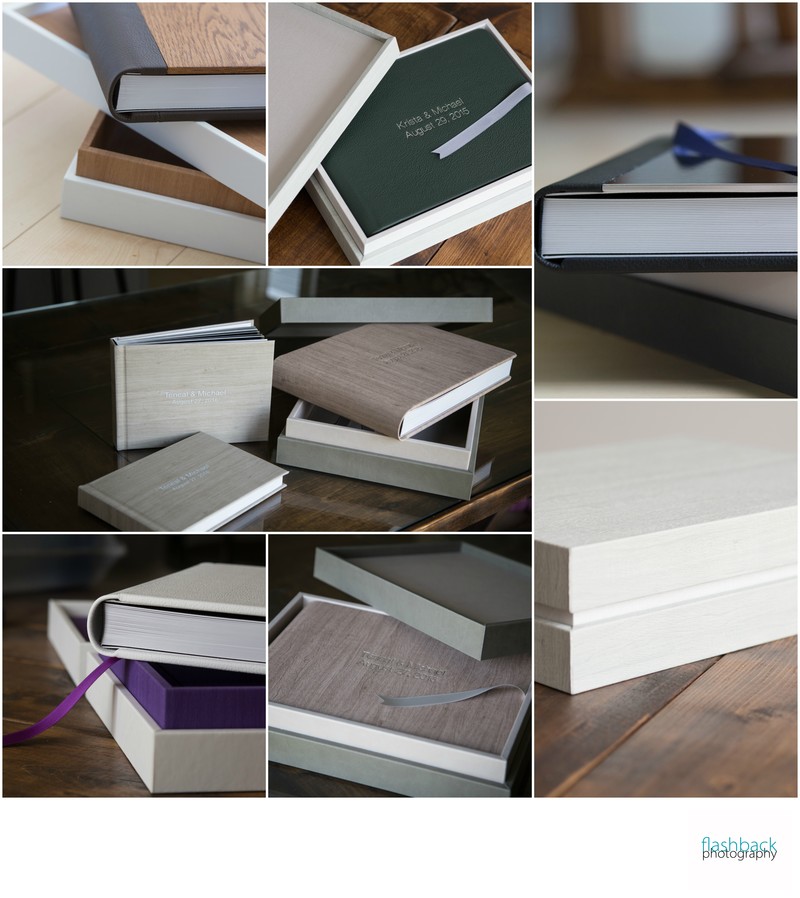 Why did you decide to offer wedding albums?
As a young child, my grandparents had an oval coffee table in their living room. The top surface was glass (on it sat a single jar of candy to which I sometimes helped myself), and the single shelf underneath held their wedding album. Every single time I visited their home I opened that album. I laughed at the outdated hairstyles, and tried to guess the names of family members, many of whom I could not recognize in their younger years. I remember everything about that book -- from the white padded cover, embossed with a paisley print, to the inscription on the first page that read the date of their wedding. I remember the weight of the book in my hands. I remember the smell of the pages, worn with time.
My grandfather has since passed, and my grandmother has moved to a nursing home. Dementia has claimed her memory and she no longer recognizes me, or anyone from her past. The album, and the stories she told me, have become a tangible heirloom representing her history, my mother's, and mine. I look forward to sharing this part of my heritage with my own children someday. I hope we snuggle on the couch together and laugh at the hairstyles as I once did. I hope they pass the book on to their children, too.
My grandparent's wedding images have been viewed hundreds of times because they are in an album. They continue to be appreciated and their story lives on. As a photographer, I hope the images I create today are cherished in the same way, and providing an album for my clients offers them that opportunity.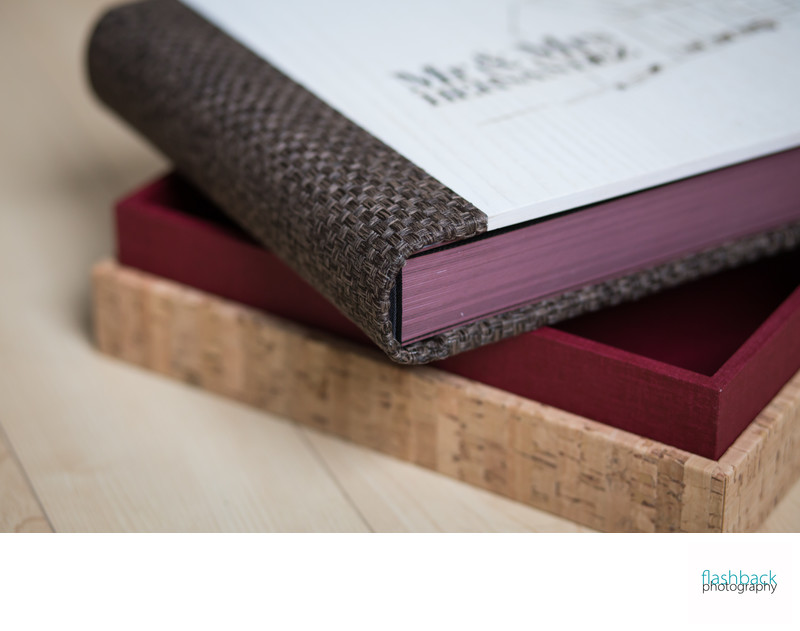 Can we purchase an album after our wedding? Maybe in a year or two?
Certainly! While there is a significant discount if you purchase an album upfront with your photography services, I will always offer albums post-wedding at current prices.
Do you design the wedding albums?
Each and every image is captured with the end-result in mind, which is why I proudly complete all album design in-house. Your images are as important to me as they are to you -- I promise. This localized process allows you to be involved in the selection of images and approving each page layout before the album is printed.
Where are the wedding albums printed?
Once the design is finished, all albums are handcrafted in Italy using some of the highest quality materials available worldwide.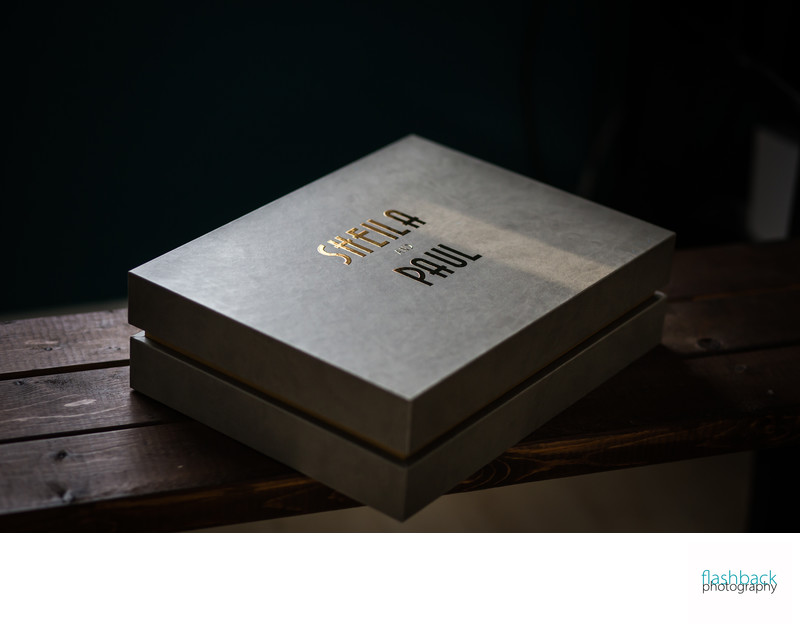 Are various cover options available?
Absolutely! I would love to work with you to customize your album cover material, colour, and specific details from more the literally hundreds of possible combinations. Options such as genuine oak wood, real leather, eco-friendly leatherette, linen and metal are among those available. Engraving your names and wedding date on the album cover gives your wedding heirloom a personal touch. Custom engraving of specific graphics or symbols is also available.
I see so many different designs on the covers of your albums. How is it determined which graphic I receive?
There are two options to customize your album cover. The first option is to select either text or a graphic from a set of standard options available (including a variety of styles from romantic to rustic, modern to traditional options). Most couples prefer something completely custom, often taking the graphic directly from their wedding invitation suite, or another personal document.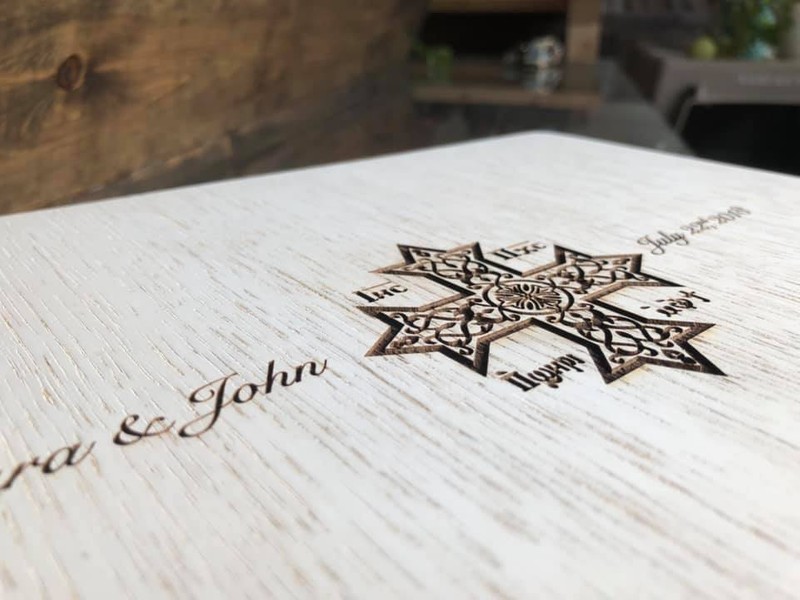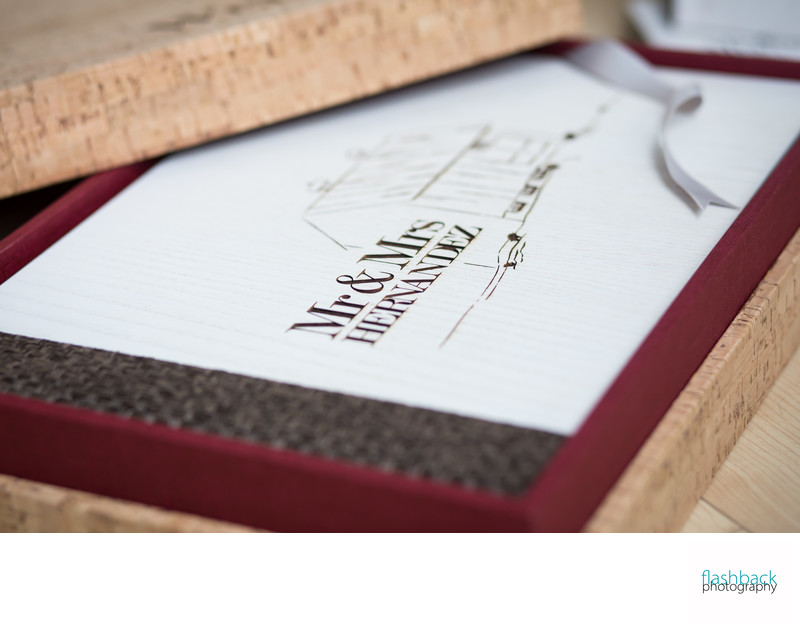 Can I order an album for my parents?
Parent Albums are available in sets of two (one for each set of parents). The standard size of these albums is 8" x 6", and the layout of pages is identical to your main album. They make lovely Christmas gifts, or thank-you gifts to recognize your parents' involvement in the wedding day. I also recommend parent albums for grandparents and bridal party.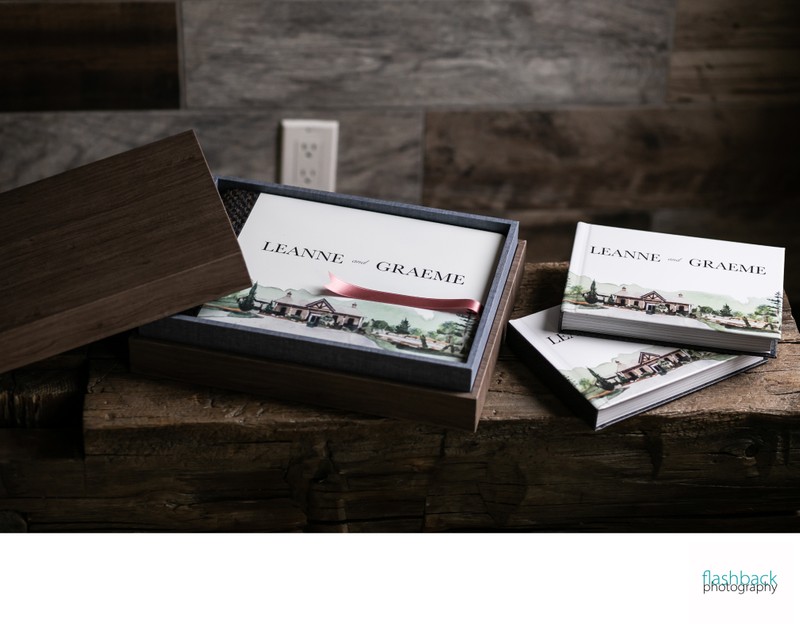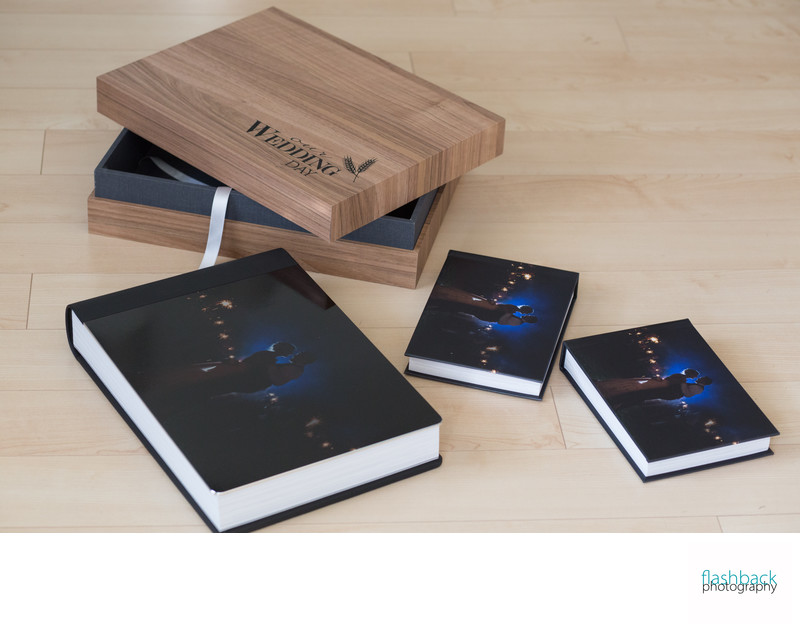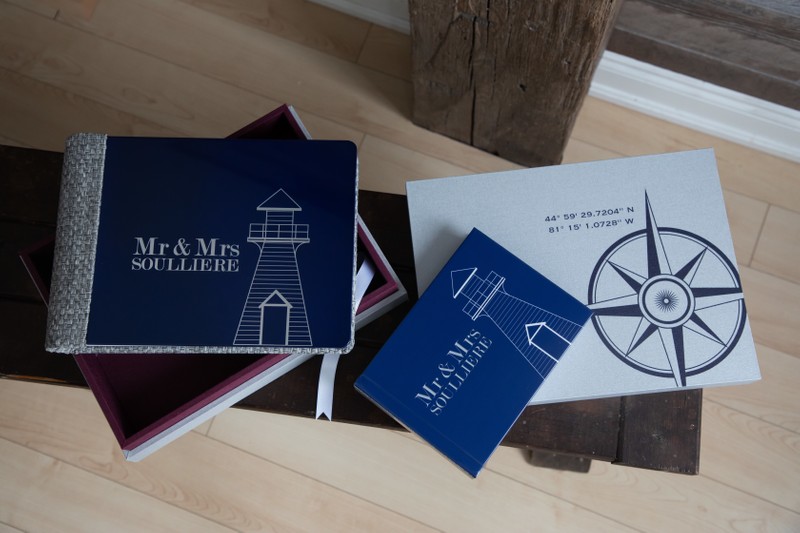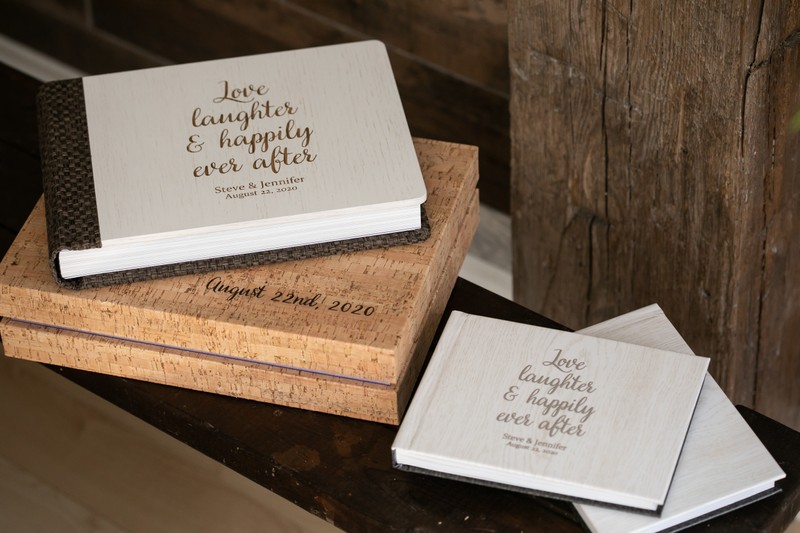 Are the albums included in wedding photography coverage?
I believe every client deserves a beautiful finished product to cherish. Photographs are intended to be enjoyed for many generations, and stand the test of time. As such, an album is included with all full-day wedding photography collections. For more specific pricing details, please contact me, directly.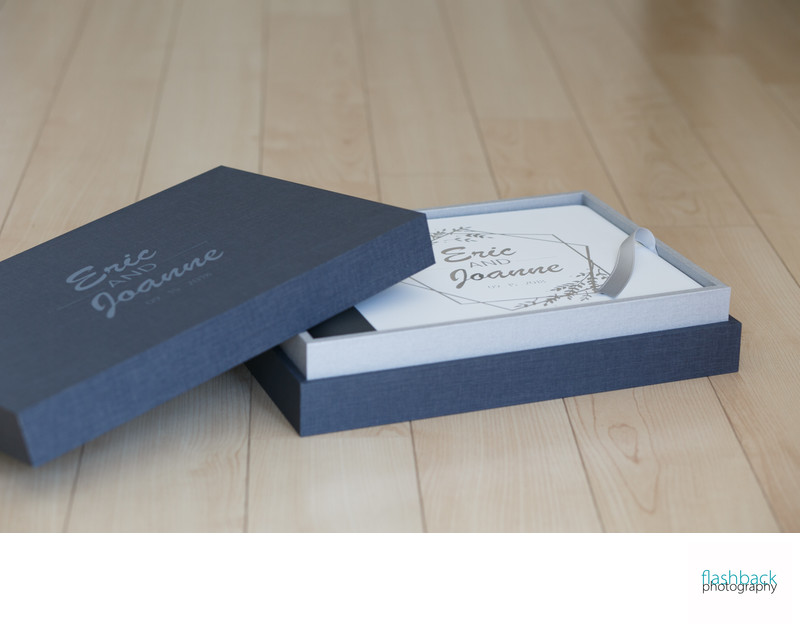 What if I also book videography of my wedding? Is there anything special for me?
Innovating to find new ways of telling stories has always driven my creativity. I am so excited to introduce a revolutionary product designed to help you relive your wedding day told as a dimensional story through both photography and video. The Heirloom Box Multimedia protects your wedding album and plays your video on a cordless 10" freestanding screen with built-in stereo speakers. Of course, it is completely customizable with your choice of currently available materials and graphics.
If I book my photography with another studio, can I order an album from you once I receive my images back?
In short, sadly the answer is no. I put a lot of time and passion into researching and designing the album process offered at Flashback Photography, with the specific intention that those who trust me with their images from the beginning are able to receive a tangible heirloom that will preserve them.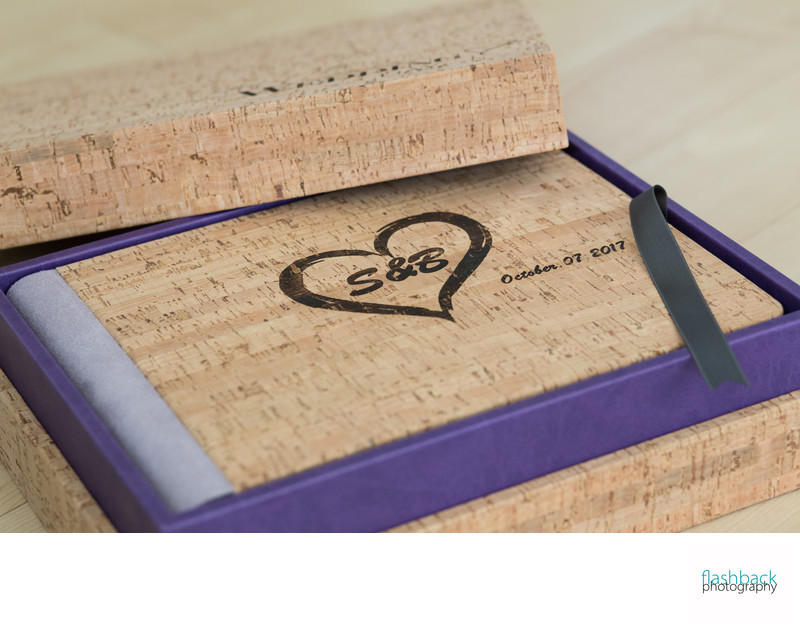 How should I care for my album?
Treating your album with a little bit of extra care will ensure it maintains its beauty for many, many years. Handle your album with clean, dry hands. If needed, you may wipe the book gently using a dry microfibre cloth, however avoid chemicals or cleaning agents altogether. Avoid placing the album in direct sunlight to prevent the cover from fading, and a low-humidity in the environment is also important, to ensure the cover does not warp in time. A little bit of extra attention is well worth the effort to preserve this beautiful family heirloom for generations to come.