Choosing a location for your engagement session or wedding portraits in the Peterborough Area can be a difficult task. We are fortunate to be surrounded by naturally occurring beauty that is as diverse as it is plentiful. Having grown up in this area, many locations hold a special place in my heart, both personally and professionally. Whether marvelling at historic structures such as the Hydraulic Liftlocks or Clock Tower, or a hike through the mountains, you can find it within an hour of Peterborough. As engagement sessions are continuous (meaning they occur on a single day, with no breaks), this diversity allows plenty of variety in your backgrounds, with limited time spent travelling by foot or in a vehicle.
Many couples choose to include their dog in their Peterborough engagement session, and I absolutely understand why! My dog is an important part of my life and appears in all of my family portraits. For this reason, I have included information about the dog policy, specific to each venue on the list below. As always, please remember that these are public locations and therefore dogs are to be kept on-leash at all times. Also, please do consider having a third person join us for your engagement session who is able to handle your dog comfortably while I work with the two of you alone at times.
Note that while the list below includes many of the most beautiful engagement session locations around the Peterborough Area, it is not exhaustive. If there is a location that holds a special place in your heart I would be delighted to meet you there. I would love to hear about your favourite picnic place, or the cottage where you grew up and capture current moments, while also giving you a reminder of happy memories.
Beautiful Peterborough and Kawartha Lakes Photography Locations
Millbrook Valley Trails, Pond and Antiquated Downtown
This is, by far, my favourite location in the Kawartha Lakes region. I have been visiting this park since I was a child. I have photographed my own family there many times, and am delighted to introduce the couples I work with to its charm as a location for engagement or wedding pictures. Located only 15 minutes from Peterborough, this area features an open picnic area alongside the Millbrook Pond, perfect for young children and dogs to run and play. Year-round there are families of ducks and geese who call this region home, and their presence adds a certain charm to your portraits -- just watch your step! Less than a minute from the parking lot is are entrances to two trail systems. One, Mead's Mountain, leads you through a forest and up a steep incline to a beautiful lookout point. The other trail winds through the meadows and marshland. It can be very muddy in the springtime, so bring your hiking boots!
Within walking distance is Millbrook's main street which has been the set of many movies filmed by Toronto corporations due to its historical significance and antiquated charm. Most of the buildings are original structures, with no modifications or modern updates to the exterior. I love a classic red brick wall or a winding black wrought-iron staircase as a textured background for engagement portraits. In the winter, the street has lovely decor hung on each lamppost, giving a bit of small-town seasonal context.
Dog-Friendly? Yes.
Best Season to Visit? Year-round.
Privacy Level? Excellent. Set well back from the road, and rarely populated.
Permit Required? No.
Parking Fee? No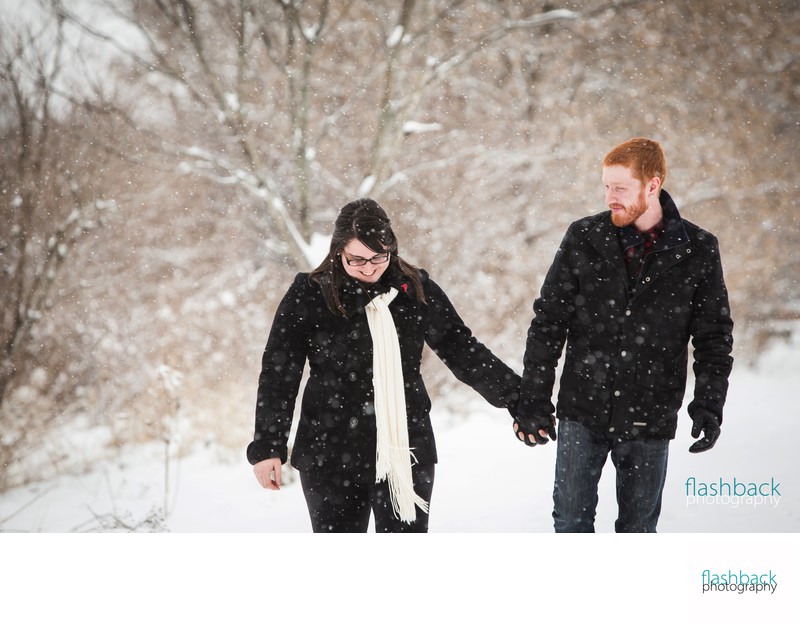 Millennium Park, Peterborough
If you are looking for a natural background, but aren't a fan of hiking through the woods, consider Millennium Park. Paved pathways lead you through beautifully maintained gardens with limestone sculptures and tree-lined corridors. The paths follow the curvature of the lake, offering waterfront views in the urban jungle. It is easy to combine portraits at Millennium Park with a few that showcase the historic downtown clocktower, for a bit of urban flair in your engagment or wedding portraits.
Millennium Park is only five minutes from the Peterborough Courthouse, which makes it very convenient if you are holding your wedding ceremony there.
Dog-Friendly? Yes.
Best Season to Visit? Year-round.
Privacy Level? Low, as this location is very visible from the road, and often quite busy. Don't worry -- we will find a great spot for your portraits, however just be advised that we will have to wait a few minutes from time to time as people pass.
Permit Required? No.
Parking Fee? Yes. Parking in the municipal lot closest to the park is less than $5 per hour, last time I checked. There is also metered street parking available for less money, however it can be difficult to find a spot close to the park.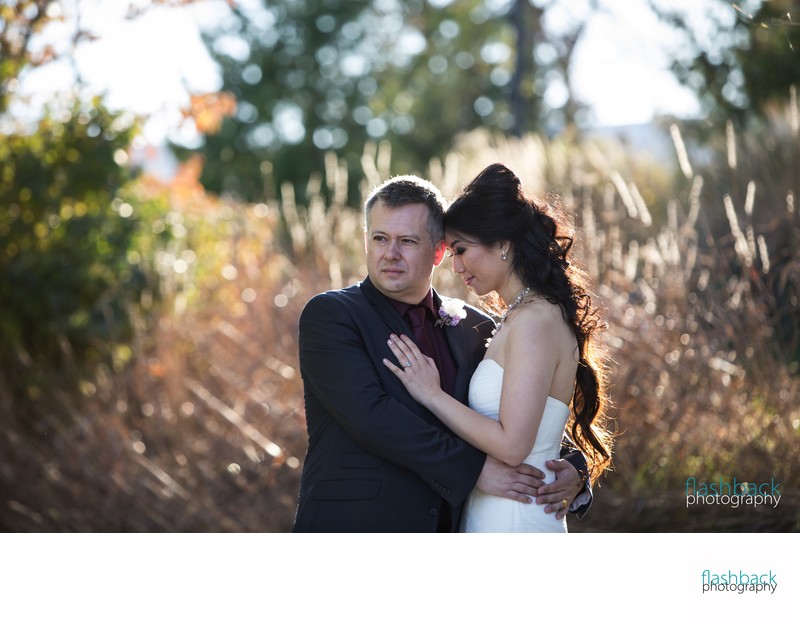 Riverview Park and Zoo, Peterborough
Lions and tigers and bears?! Just Kidding! The Peterborough Zoo, as it is called by locals, is home to creatures such as the Squirrel Monkeys, Bobcat, Barbary Sheep and Green-Winged Macaw. If you are looking for a unique spot to have your Peterborough engagement photos taken, look not further! This location is also suitable for wedding day portraits, with permission from the administrators. Animal exhibits are scattered across the land and connected by paved trails. In-between the exhibits are abundant gardens and stone statues that define the landscape. In the centre of the zoo is a large water fountain filled with pennies, and just as many wishes. The zoo is situated along the Trent-Severn Waterway, making it a great location for your romantic waterfront portraits. My favourite feature of this venue is the huge black wrought-iron gate at the main entrance. It makes a grand backdrop for a formal photograph of the two of you, together, and gives location context in your gallery of images.
Dog-Friendly? Yes.
Best Season to Visit? Late Autumn, or Winter
Privacy Level? In the winter, this is an extremely private venue -- unless you count the four-legged spectators, that is! In the summer, however, I do not generally advise this location as it is busy with families who will interfere in the background of your images.
Permit Required? No.
Parking Fee? No.