Choosing a location for your engagement session or wedding portraits in Simcoe County can be a difficult task. We are fortunate to be surrounded by naturally occurring beauty that is as diverse as it is plentiful. Whether a romantic walk along the beach at sunset or a hike through the mountains, you can find it within an hour of Barrie, often at the same venue. As engagement sessions are continuous (meaning they occur on a single day, with no breaks), this diversity allows plenty of variety in your backgrounds, with limited time spent travelling by foot or in a vehicle.
Many couples choose to include their dog in their Simcoe County engagement session, and I absolutely understand why! My dog is an important part of my life and appears in all of my family portraits. For this reason, I have included information about the dog policy, specific to each venue on the list below. As always, please remember that these are public locations and therefore dogs are to be kept on-leash at all times. Also, please do consider having a third person join us for your engagement session who is able to handle your dog comfortably while I work with the two of you alone at times.
Note that while the list below includes many of the most beautiful engagement session locations around Orillia and Barrie, it is not exhaustive. If there is a location that holds a special place in your heart I would be delighted to meet you there. I would love to hear about your favourite picnic place, or the cottage where you grew up and capture current moments, while also giving you a reminder of happy memories.
An Important Note to other Wedding Photographers, Vendors and Professionals:
If you would like to showcase this information on your website or blog, I ask that you do not copy and paste the information but simply link to this site, instead. Like our photo, we like having all of our work credited to us – so please, be the professionals your clients expect you to be and do not simply copy the info below but link to it appropriately. Thank you.
Beautiful Barrie and Simcoe County Photography Locations


"Sunset Point", Orillia
This patch of beauty is located on land set for development. At the present time, it remains untouched, however construction could begin at any time. This is one of my favourite locations, and it will be quite sad when the natural landscape is replaced with a subdivision, mid-late 2018. Construction has already begun as of November, 2017, however some areas remain untouched. If you like this space, don't delay!
Dog-Friendly? Yes, however it is unfenced and 1 km from a busy road. A leash is recommended, for the safety of your pet.
Best Season to Visit: Summer or Autumn, when the grass is long. It can be quite muddy in the spring, and access is nearly impossible in the winter.
Privacy Level? Excellent.
Permit Required? No.
Parking Fee? No.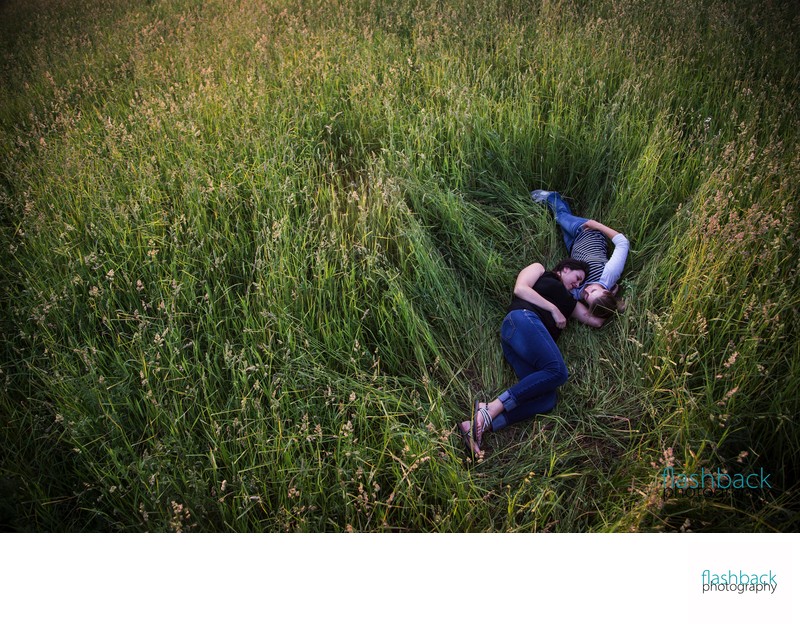 Nine Mile Portage Heritage Trail, Barrie
Let's journey off the beaten path. Even local residents are unlikely to have discovered this hidden gem as the access point is a catwalk between two houses which, at first glance, appears to lead absolutely nowhere at all. Once away from the street, we will be greeted by the open field seen in the engagement image, below. I love the long grasses, untamed and free to blow in the direction of the wind. A small picnic would really complete this setting, and tell a beautiful story in your Barrie engagement portraits. In the background is a rustic barn, which certainly adds to the scenery, however is on private property. A little further along is an unpaved trail surrounded by mature deciduous trees that form a partial canopy overhead -- a lovely location for a quiet stroll through nature's stunning backdrop. The location is very private, allowing for a more intimate portrait session that is all about the two of you. While excellent for engagement sessions, I would not recommend Barrie's Nine Mile Portage Heritage Trail for your wedding photographs as the ground can be muddy during the rainy season.
Dog-Friendly? Yes.
Best Season to Visit: Year-round.

Privacy Level? Excellent. Very, very private location.
Permit Required? No.
Parking Fee? No.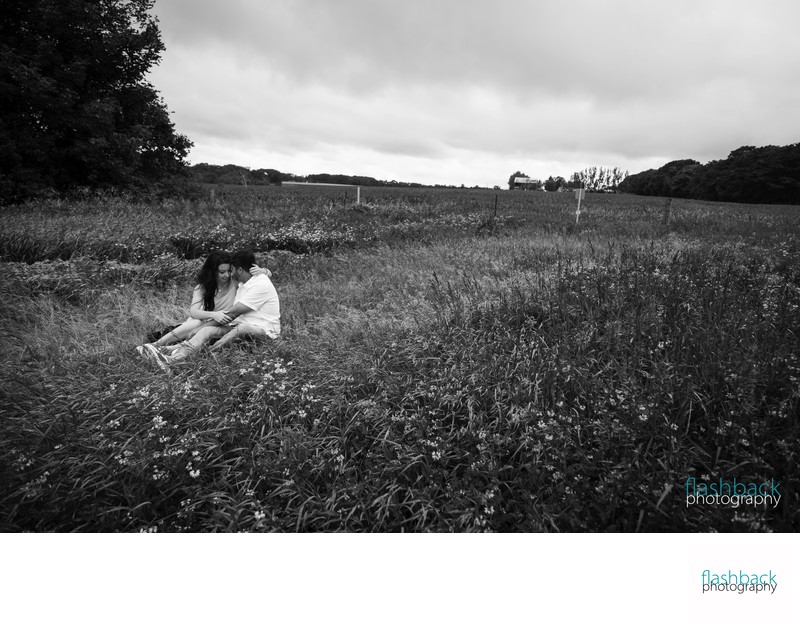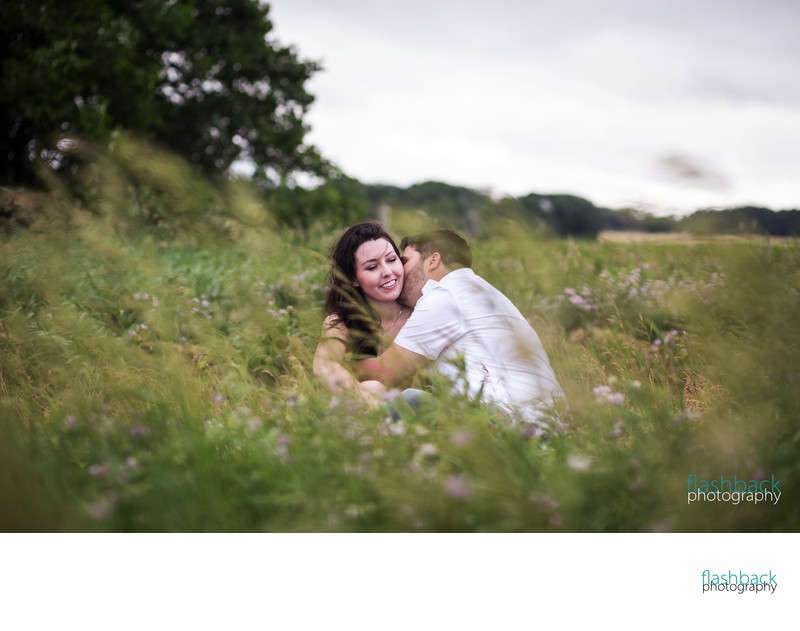 Tiffin Centre Conservatory, Barrie/Utopia
Are you looking for a location that truly has it all? Welcome to the Tiffin Centre for Conservation, just 10 minutes from Barrie, and a world away from the cityscape. Forested hiking trails surround a large pond with several lookout points. All around, the trees touch, making a shady lane. To one side of the pond is a large wooden bridge that makes this venue so unique. The bridge takes visitors over a marsh/wetland area filled with bright wildflowers in the spring and summertime. It offers panoramic views of the scenery, including the nesting areas of some migratory birds, if you are willing to look closely. Finally, another section of this spacious venue has varied elevation that bring you close to the sun and can be used to capture stunning silhouettes in the latter hours of the day. I highly recommend this location
Dog-Friendly? Yes.
Best Season to Visit: Year-round.
Privacy Level? Excellent. This is a huge outdoor space with great tree coverage and few other people at any given time.

Permit Required? Yes, unless this location is also your wedding venue. Permit price is very reasonable.
Parking Fee? Yes. $6.50 per vehicle.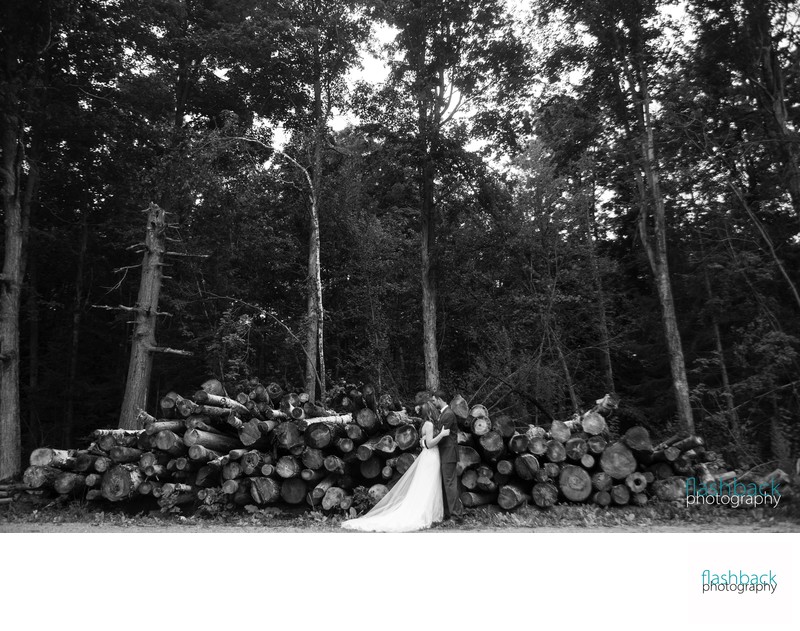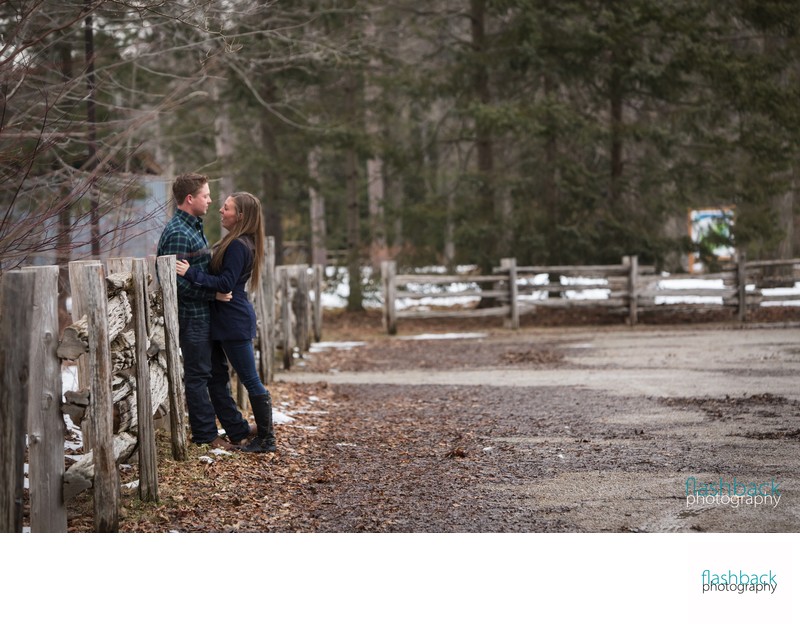 Six Mile Lake Provincial Park, Severn
Hiking trails, marsh areas, quiet lake-front views and gorgeous rock out-croppings define this natural location. There is a body of water at every turn, towering trees lining your path, and reflections galore. If you love the beach, you have a choice of three here! Two public beaches and one dog-friendly beach give opportunity for sandcastle-building, swimming, canoeing, kayaking and peddle boats. An additional fee applies for boat rentals.
Dog-Friendly? Yes.
Best Season to Visit: Summer/Autumn, although property is open year-round. In winter, the bare rock facing can be quite slippery. Be prepared with appropriate footwear and proceed with caution on trails.
Privacy Level: Very private on hiking trails. Moderately private in beach areas.
Permit Required? No, however there is a canoe rental fee (optional).
Parking Fee? Yes. $14.50 is the daily rate, per vehicle, during regular operating season (Summer-Autumn). Well worth the cost, and you have full-day access to the park. Pack a picnic and make it a day trip! Parking is free in the winter.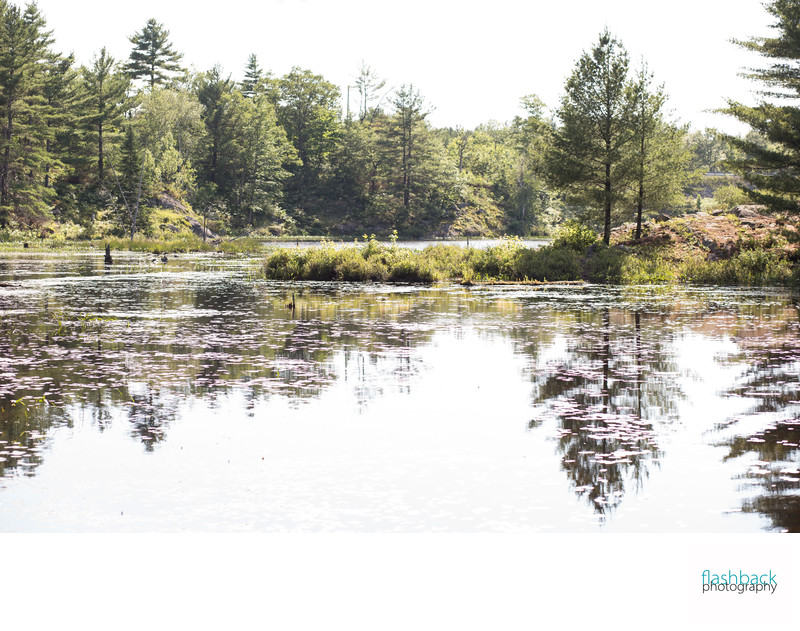 Bass Lake, Orillia


This is probably the least busy beach in Simcoe County. The water is usually warm, parking is easy to find and in close proximity, and the landscape is visually interesting. The only downside to this beach is the lack of sand. While there is a small patch of sand on one side, it is usually already claimed by another group. The rest of the shoreline is very rocky and a bit uncomfortable on the feet.
If you wish to rent a canoe for your portrait session, we can do so at Bass Lake Provincial Park. Rentals are around $20 (we would need two -- one for the two of you, and one for me, so that I may follow you out past the shoreline and use a variety of angles that surround your canoe), plus there is a parking fee per vehicle. Once the parking fee is paid, we do have access to the entire provincial park, including the hiking trails and picnic area. It can get a bit expensive, but sets the scene for photographs which tell a complete story.
Dog-Friendly? Yes. This is one of very few beaches that permit dogs on the sand and in the water.
Best Season to Visit: Summer/Autumn

Privacy Level? Moderate. While the beach is rarely busy at all, it is highly visible from the street and nearby houses.

Permit Required? No, however there is a canoe rental fee (optional).
Parking Fee? No.

Tudhope Park, Orillia
The highlight of this location is, of course, the beach. Let's have some fun building a sandcastle together, then cool off splashing our feet in the water for some photographs that capture the joys of summertime. There is a fabulous old-fashioned ice cream stand along the beach. We can get a cone (I recommend chocolate chip) and walk through the tree-lined trails, away from the crowds, for more romantic portraits. Overall, this is a great place to come if you are looking for a combination of natural beauty and beach-front views. It is conveniently located just off of Highway 12, minutes from the Highway 11 junction.
Dog-Friendly? Yes, except on beach sand.
Best Season to Visit: Summer/Autumn

Privacy Level? Moderate. There are often families at the beach, playground and picnic areas, however fewer people on the walking trails. Location has some visibility from the road.

Permit Required? No. The ice cream stand on the beach takes cash only, if you are interested in a cone.
Parking Fee? No.
Mara Beach Provincial Park
I love this location. Whether looking for forested backdrops or beachy waterfront views, this provincial park offers it all. Often overlooked in favour of it's "big brother", McRae Point Provincial Park, Mara offers privacy and room to play. Bring a picnic, a frisbee, and your swimsuit -- let's have some fun!
Dog-Friendly? Yes, except on beach sand. Dogs are required to be leashed.
Best Season to Visit: Year-round, however access is difficult in winter.

Privacy Level? Excellent.

Permit Required? No.
Parking Fee? No.
Downtown Orillia
If you are planning a winter engagement session, or getting married around Christmas time, I recommend visiting the streets of downtown Orillia. We could start your Orillia engagement photography at the boardwalk along Lake Couchiching. A romantic walk by the water, stopping to feed the seagulls (only healthy treats, please!) and taking in the local scenery offers plenty of variety for your portrait session. At night, the lamp posts are lit with white mini lights that twinkle from the waterfront all the way up the main street, which is lined with antique shops. Lets stop to warm up, then proceed with a hot chocolate in-hand. For anyone looking to combine some natural backgrounds with a bit of urban flair, this might be your perfect destination!

Dog-Friendly? Yes, except on beach sand.
Best Season to Visit: Year-round, however twinkle lights are only available in early winter.

Privacy Level? Low. Boardwalk area is very busy with children playing and people walking dogs along the waterfront, especially in the summertime. The area is considerably less populated during the winter months, however never void of people. Location has high visibility from the street.

Permit Required? No.
Parking Fee? No, if parking by the waterfront in a designated lot.
Wasaga Beach
While the main beach is always busy, I'll take you to secondary beaches that offer the same white sand and beach-front views! This is the perfect stop for an ice cream sundae and a romantic walk down the sandy shoreline. There are 50km of hiking trails near the beach, however not close enough to walk. Visiting the trails in addition to the beach would require additional time.

Dog-Friendly? Not recommended.
Best Season to Visit: Summer/Autumn

Privacy Level? Moderate. There may be a few other groups at the smaller beaches we visit, however most will be on the other side of the lake at the Main Beach area. Limited street visibility.

Permit Required? No.
Parking Fee? Yes, and it is closely monitored. Expect about $15-$20 per vehicle.
Chappel Farms, Avalon Orchards or Barrie Hill Farms
Let's go apple picking in September, pumpkin picking in October, or strawberry picking in July. For couples who are a bit apprehensive about being in front of a professional camera, this is a perfect location. Having an activity with which to keep occupied can sometimes help take their minds away from the pictures, and allow you to re-focus on enjoying the time with each other. Couples who have small children may enjoy this venue as the activity will keep them engaged. This would also be a great venue to visit with your bridal party on your wedding day, if you are looking for a very fun and unique experience during your photographs!
Dog-Friendly? No.
Best Season to Visit: Summer/Autumn, depending on fruit or vegetables being picked

Privacy Level? Moderate. These are large venues, and we can easily move away from other groups. On weekends throughout October, Chappel Farms can be very busy with families picking Halloween pumpkins.

Permit Required? No, however permission is required. Do expect to purchase the apples/pumpkins/strawberries or other goods you pick from the farm.
Parking Fee? No.
George Langman Wildlife Sanctuary, Orillia
This outdoor venue has open fields and forested pathways that surround a central pond. The area is protected, so you might see the occasional wildlife. As far as nature settings go, this rarely populated location is ideal in every sense of the word. In the parking lot area there are geese that can be fed using nutritious snacks purchased on-site. It is also located within 5 minutes from the beaches and hiking trails at Bass Lake Provincial Park, and a wonderful dead-end street that overlooks the city of Orillia from a high altitude. One clear days, the sunset is simply breath-taking from that height. As everything is so close together, we can easily combine locations to give you plenty of variety.

Dog-Friendly? Yes.
Best Season to Visit: Year-round. Winter can be quite spectacular!
Privacy Level? Excellent. I am often the only person in the parking lot when I arrive.

Permit Required? No.
Parking Fee? No.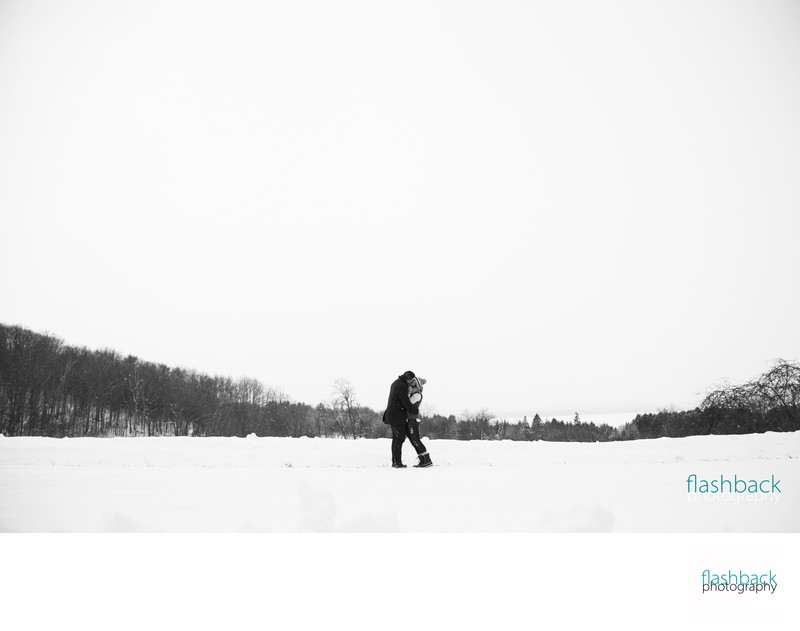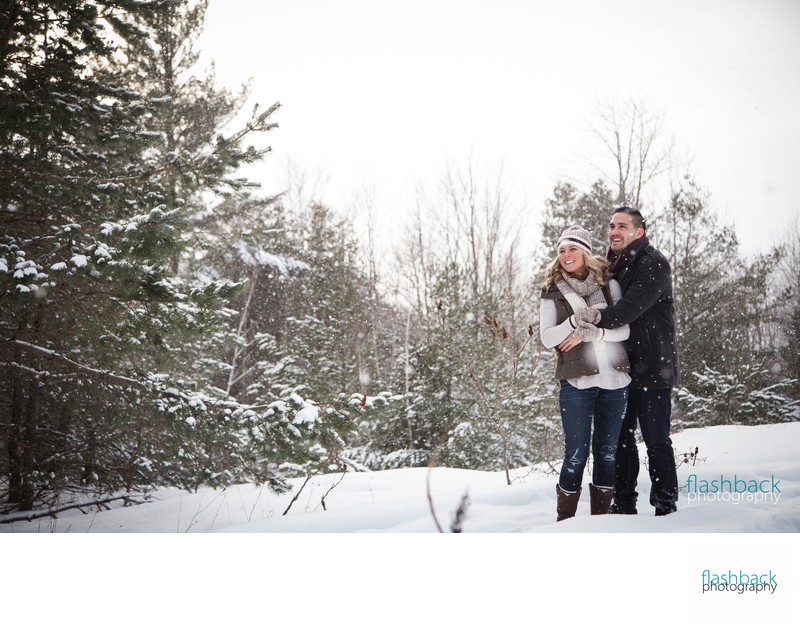 Grant's Woods, Orillia


This is a forested venue with plenty of hiking trails. If you are willing to walk 2-3 kilometers, there is a beautiful lookout point over a ravine that gives dimension to your portraits. I do prefer this venue over Scout's Valley, as it is less populated and the trails are on flatter terrain.
Dog-Friendly? Yes.
Best Season to Visit: Year-round.

Privacy Level? Very Good.

Permit Required? Yes. Please contact the Couchiching Conservancy for more details.
Parking Fee? No.
Scout's Valley, Orillia
Scout's valley is probably the most common request I receive for engagement session locations in Orillia, and I certainly understand why this is the case. Tall, magnificent trees line natural earth-packed trails up to a hilltop which overlooks the limestone quarry. For a more secluded lookout point, a man-made observation deck is tucked away from the main trail and serves as the perfect picnic spot. Deeper into the woods is a small ravine surrounded by tiny rivers. If you are willing to get a little mud on your shoes, it is worth the hike. The other feature which makes Scout's Valley a great place for engagement photography is its proximity to other areas. We can easily combine this forest location with a public park, such as the "Westridge Park", or the trails at Rotary Place sporting complex, to offer variety and visual interest into your full engagement gallery.
Dog-Friendly? Yes, however be cautioned that there are often other dogs off-leash on the trails.

Best Season to Visit: Year-round.

Privacy Level? Moderate. This is a pretty busy place, however it is extremely large.

Permit Required? No.
Parking Fee? No.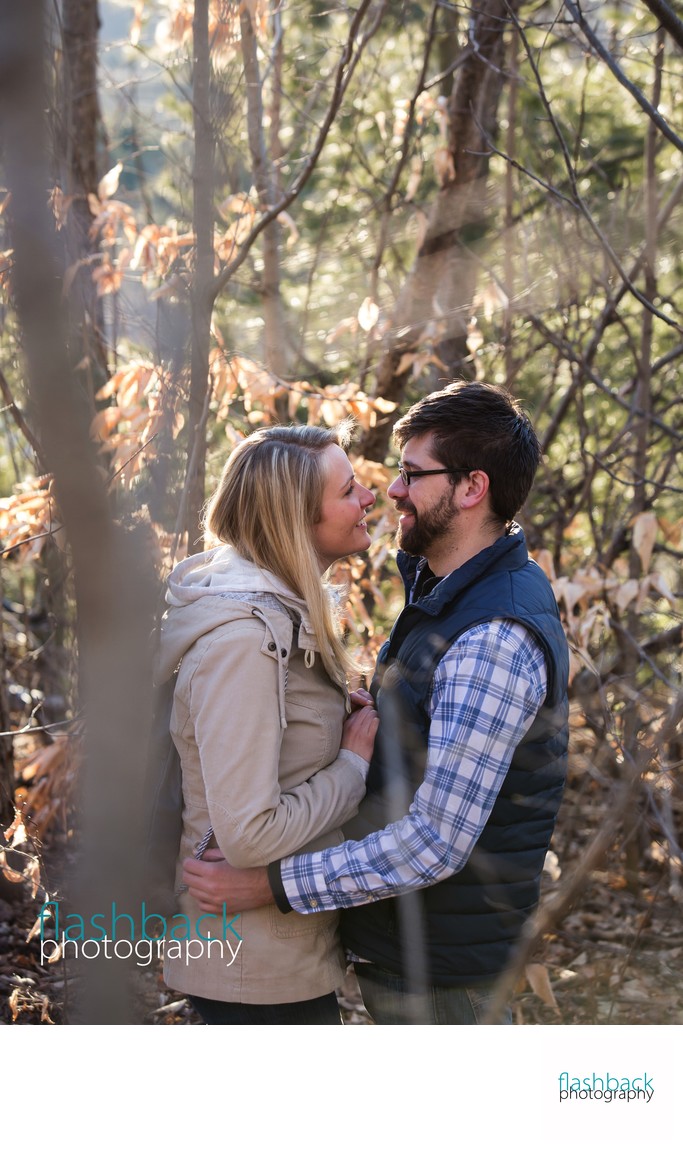 Westridge Park
Only a couple of minutes from Scout's Valley is the Westridge Park. While there is not enough diversity here for an entire engagement session, I love this location for its high elevation, which provides a spectacular view of the summer sunset.
Dog-Friendly? Yes.
Best Season to Visit: Summer or Autumn
Privacy Level: Moderate. The park is rarely busy in the late evening when we would be arriving. There is a playground and a fenced-off leash dog park on the property, however they are quite far off the path.
Permit Required? No.
Parking Fee? No.


Kinmount Saw Mill Area
Looking to combine history and nature? Look no further than the Kinmount Saw Mill area. With panoramic forest views that are second-to-none, and an outdoor display of the town's rich history in lumber processing, this area is unique in every way. Right beside the saw mill display is a small park with an open field along the waterfront, giving you variety in your images without the need to drive to multiple locations.
Dog-Friendly? Yes.

Best Season to Visit: Year-round, however I recommend Autumn to maximize the panoramic views.

Privacy Level? Moderate. There are views from the street, however it is a small town and the park area is not busy.

Permit Required? No.
Parking Fee? No.