Ontario Wedding Photographer | Flashback Photography
Brooklands Farm Wedding
Looking for a wedding venue in Muskoka? Consider Brooklands Farm, in Bracebridge, Ontario for your special day!
The Guest House
The little guest house at is perfect for bridal party preparations on the wedding day. Creating dramatic light in my wedding photography is one of my favourite activities -- I am always on the lookout for the perfect space that adds an artistic element to a documentary scene. For someone like myself who enjoys capturing dark, dramatic shadows and carefully placed areas of brightness, tiny window in the main bedroom is a dream-come-true. This little pocket of light can be used so many different ways, and while I work it gives the bride a gorgeous view out the back deck, safety away from the sightline of her guests. This same guest house at Brooklands Farm also features a main living area large enough for the bridesmaids and a few family members to gather around and chat about the day ahead, a modern kitchen with new appliances and a cozy wood burning fireplace added atmosphere and comfort to the space. Snuggle up and you can even get married at Brooklands Farm in the winter!
The Grounds
Brooklands Farm offers panoramic views in every direction, each with an entirely different focus: from shaded forest, to pond and meadow, to blowing hay awaiting the autumn harvest. My favourite feature, however, is the long lane-way of trees-- a perfect spot for your first look, or family portraits.
Photographer's tip: make time for a 15-20 minute portrait session around sunset at this location if you can. Since there are so many background to explore, and such beautiful light over the pond a little later in the day, it is well worth the time to take a short walk with your photographer.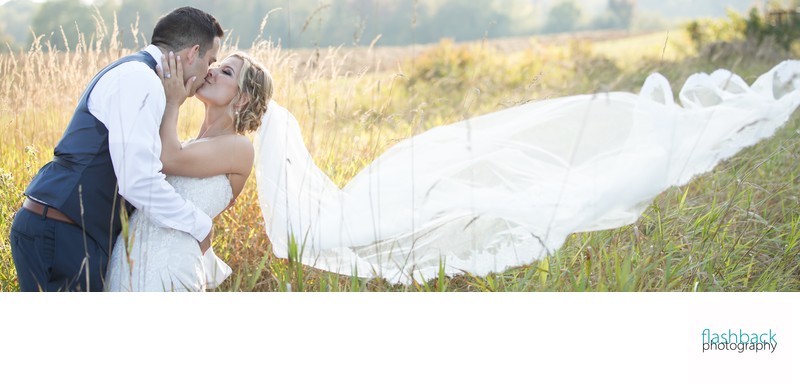 Considering Brooklands Farm and looking for inspiration? Get in touch; I'd be happy to send over some sample galleries.








Location: 1375 Butter and Egg Road P1L 1X4 Bracebridge (Ontario).

Keywords: Brooklands Farm Wedding (3).